Naast het fotograferen voor bedrijven, waaronder website fotografie, bouw ik ook WordPress websites in opdracht. En de combinatie website bouwen en fotograferen is helemaal te gek om te doen! Vorig jaar kwam Marjolijn met de vraag of ik niet haar website wilde verbouwen. Een klein jaar later gaf ze mij dan ook de opdracht om het echt te gaan doen. En het werd niet verbouwen maar helemaal de website opbouwen. En aangezien ze zelf fotografe is hoefde ik haar website niet van foto's te voorzien 😉 . 
WordPress website bouwen
Ze had haar website zelf gebouwd in het programma van Hosting2Go, nl. Sitebuilder. Na een uurtje babbelen hadden wij besloten dat ze veel meer mogelijkheden zou hebben in WordPress. Vervolgens heb ik een aantal gratis WordPress thema's en een aantal betaalde thema's gevonden waarvan ik dacht dat die wel bij haar zouden passen. Deze hebben wij allemaal doorgenomen totdat wij er eentje van Angie Makes "pretty and cute WordPress themes" vonden die zij heel mooi vond.
Deze ben ik samen met input van Marjolijn gaan opbouwen: lettertypes en kleuren kiezen, layout van de website en pagina's bepalen, pagina's opmaken en vullen met tekst, menus opbouwen, widgets bepalen, afbeeldingen per pagina bepaald en portfolio erin (na een sessie waarbij wij door haar foto's zijn gegaan) …
Het resultaat is een website die qua kleuren perfect bij haar stijl van fotograferen past, waarbij haar foto's mooi uitkomen en waarop ze zeer trots kan zijn! Hieronder een paar voor en na foto's ter illustratie.
Voor- en Na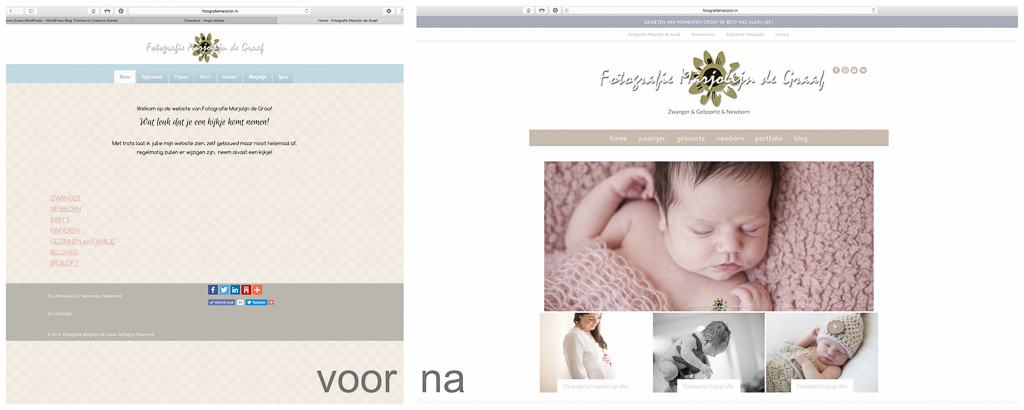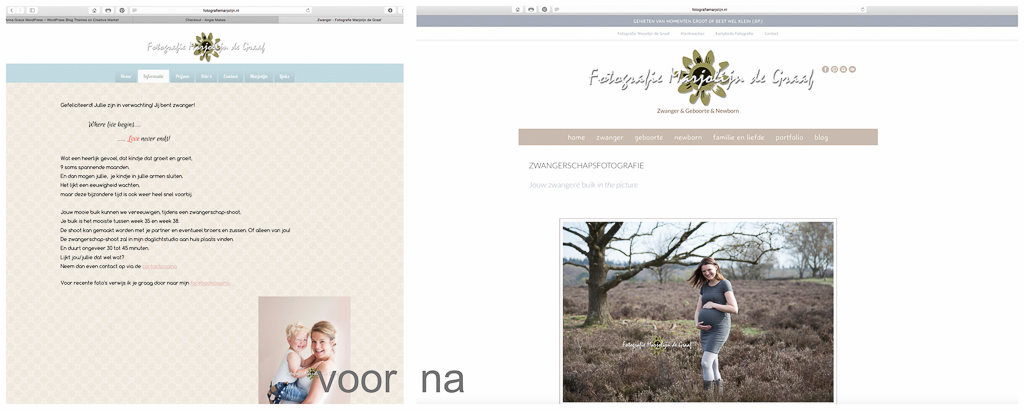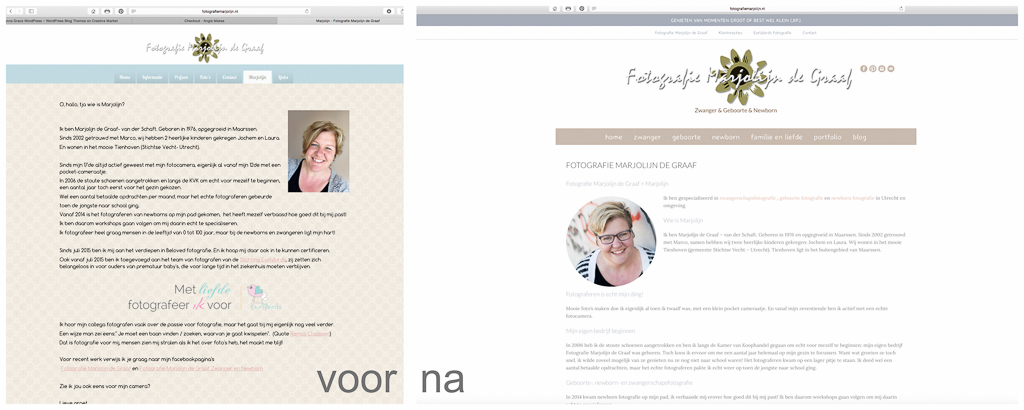 ---
ENGLISH
Building a WordPress website
Besides shooting for businesses, including taking pictures for websites, I also build WordPress sites. And the combination of building a website and delivering the pictures for it, is a great combination, I love it! Last year Marjolijn came and asked if I wanted to remodel her website. A year later she gave me the mandate to actually do it. And in reality I completely had to rebuild the site. And since she herself is a photographer I didn't need to deliver the pictures for her website 😉 .
She had built her own website in the program of het provider Hosting2Go, SiteBuilder. After an hour of chatting, we decided she would have more options in a WordPress site. I started researching some free WordPress themes and some paid ones that would suit her. In another session we discussed all the options, while showing showed to her. Finally we decided on one from Angie Makes "pretty and cute WordPress themes" she really liked.
With Marjolijn's input I started building the WordPress site: choosing fonts and colors, determining the layout of the website and pages, formatting pages and filling them with text, building menus, defining widgets, choosing the images per page and portfolio (this took a whole other session going through all her images) …
The result is a website that fits perfectly with her photographic style. Above are some before and after photos to illustrate the change and result. A result she can be proud of!