De website van Christine Pesman van Statura was gehacked. Deze was intussen ookal behoorlijk verouderd en ze was ook niet helemaal tevreden over hoe het contact verliep met haar hosting partij. Deze was alleen maar via de mail te bereiken, terwijl een beetje persoonlijk contact een voorwaarde is wanneer er wat dingen niet goed gaan. Het werd tijd voor wat nieuws! Ik ging de website bouwen en de foto's voor de website maken.  
Samen op zoek naar een thema
Het ontwerp was gedateerd, er waren ook geen professionele foto's en de tekst was verouderd. Ik heb eerst wat voorwerk gedaan en gekeken naar een paar thema's die mij geschikt leken voor een website van een letselschade expert. Wij zijn een avond gaan zitten en zijn toen uitgekomen op het thema Stockholm. Een mooi, clean, fris thema. Ook heb ik weer een contract afgesloten bij SoHosted, een hele fijne servicegerichte hostingpartij.
trek de lijn naar links of rechts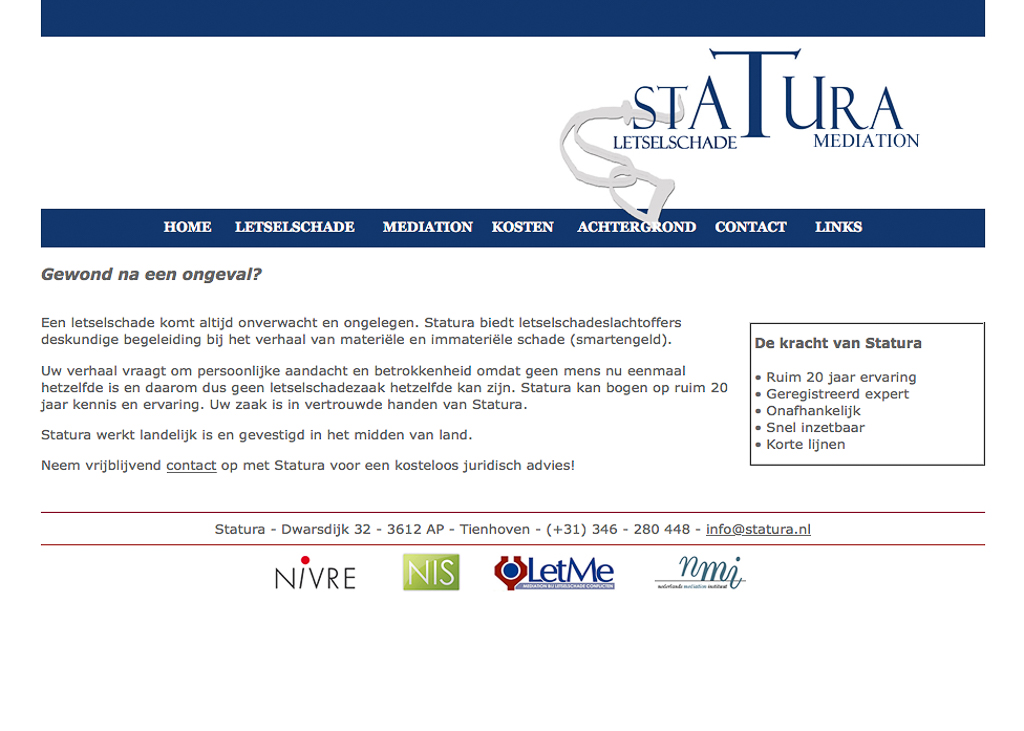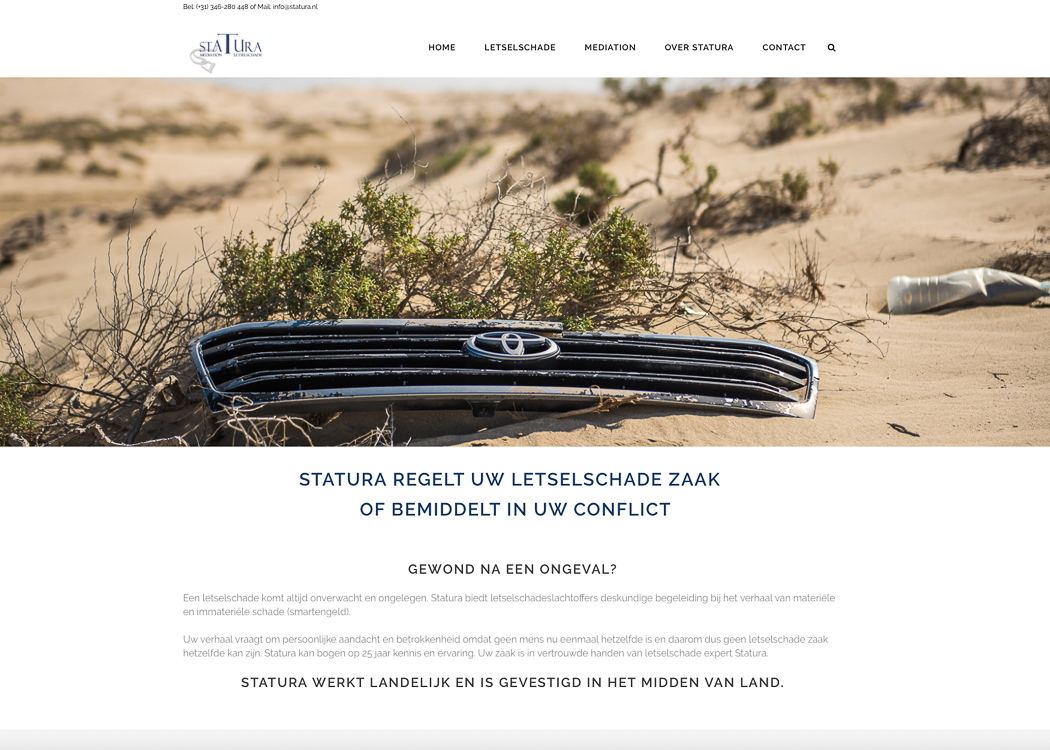 Foto's voor je website
Bij website fotografie moet je rekening houden met je bezoeker. Waardoor blijft een bezoeker langer op jouw website dan op die van je concurrent? Door beelden te gebruiken die aansluiten bij wat jij doet. Foto's met een groot authenticiteit gehalte, die in relatie staan tot wat je doet, leveren meer conversie op.
Relevante foto's worden door bezoekers juist bekeken en niet genegeerd zoals stockfoto's, en zullen bijdragen aan hogere conversie (Nielsen Norman Group – eyetracking studies, 2010, Conversion XL, 2014).
Maar hoe doe je dat met letsel? Ik begon bovenstaande aan haar uit te leggen. En dan krijg je natuurlijk al snel ideeën zoals
iemand met een gebroken ledemaat, in het gips,
iemand die 'onder' een auto ligt,
of een fiets half onder een auto,
of een tas vol spullen die uitgespreid voor een auto ligt (toch ook beetje de standaard plaatjes misschien),
die dan de suggestie wekken dat daar een ongeluk gebeurd is. Alleen Christine vertelde dat als een slachtoffer van letsel gaat zoeken naar iemand die een eventuele letselschade zaak kan regelen, dan is het geconfronteerd worden met letsel beeld het laatste wat deze bezoeker wil. En daarbij wilde ze dat toch eigenlijk zelf ook niet. Zij wil de bezoeker het gevoel geven dat ze in goede handen zijn, dat er voor hun en hun zaak 'gezorgd' wordt.
Functionele foto's
Voor de homepagina en het letselschade deel hebben wij de foto's zakelijk en functioneel gehouden. Toen wij op het eiland waren zei Christine dat het wel heel mooi zou zijn als er een ambulance of politieauto op een van de foto's zou staan. Alleen die rijden daar natuurlijk niet in grootte getale rond. Nou kan je dat niet zomaar eventjes regelen. Maar toen wij de foto's aan het maken waren voor haar homepagina, en ik midden op de weg gehurkt zat, zag ik in mijn ooghoek dat er een politieauto aankwam. Snel liep Christine over de weg en voila daar hadden wij de foto met een politieauto erbij. Zij was daar heel erg blij mee.
Sfeer foto's
Christine wilde ook heel graag sfeer beelden op haar site hebben, en ze heeft wat met paarden. Wij hebben, rekening houdend met bovenstaande namelijk zoveel mogelijk functioneel en geen direct letsel laten zien, foto's gemaakt. Hiervoor zijn wij een weekend in Vlieland gaan zitten om zowel foto's te maken als de website helemaal af te maken.
Wij hebben ervoor gekozen om het sfeerbeeld zoveel mogelijk te houden bij het mediation stuk. Op een van onze korte tripjes om eten te halen op het eiland, zag ik een klein winkeltje met allerlei snuisterijen voor de deur hangen. Daar zaten zeepaardjes en hartjes tussen. De kleuren van de hartjes waren prachtig rood en staken mooi af tegen de blauwe tinten die ertussen hingen. Deze foto's zijn uiteindelijk gebruikt op haar mediation pagina en de pagina over Statura en over haarzelf. Eerder vorig jaar hadden wij al haar profielfoto's gemaakt en toen had ze een prachtig rood jasje aan die heel mooi afstak tegen het groen van de weilanden voor haar huis. Dus de rode kleur, wat ook in haar mediation logo voorkomt, komt op haar website in kleine details en in de foto's ook naar voren.
Foto's voor het titelgebied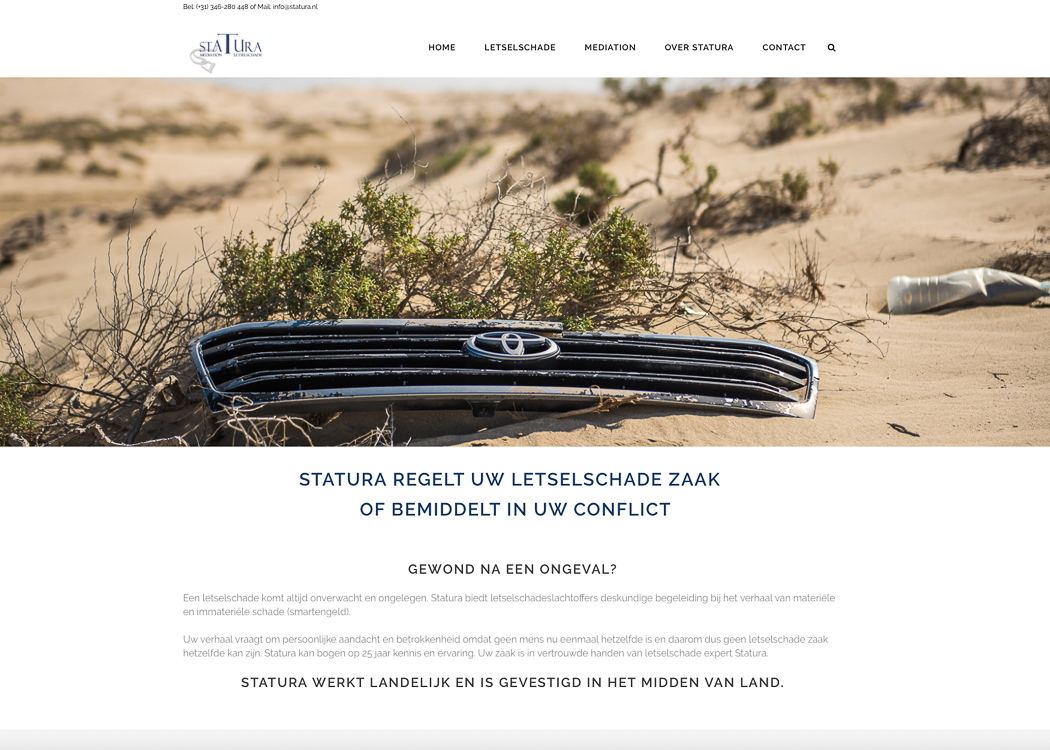 Ten slotte, de foto's die gebruikt zijn als achtergrond beeld voor het titel gebied, zijn foto's die ik gemaakt heb tijdens mijn verblijf in Qatar in 2015. Ik was de site aan het opzetten voor haar, gebruikmakend van haar oude teksten, en om het geheel alvast een beetje kleur te geven, heb ik deze foto's erin gezet. Het zijn allemaal verschillende foto's maar wel van eenzelfde plek (de woestijn), van eenzelfde soort 'achtergrond' (zand, neutrale tinten), en hebben eenzelfde soort gevoel (verlatenheid). En wat ze bijna allemaal gemeen hebben zijn de onderdelen van auto's die achter zijn gelaten in de woestijn. Als eerste kwam ik een autoband tegen, daarna volgenden nog meer auto onderdelen en ik moest ze gewoon fotograferen. En hoe leuk is het dat deze foto's hun plek hebben gevonden op deze website! De suggestie van een ongeluk maar niet het standaard suggestieve (bloederige) beeld ervan.
ENGLISH
Photography for your website and building a new website
Christine Pesman's website Statura was hacked. It was also a bit outdated, and she was not very satisfied about the contact with her hosting provider. Everything went through the mail, but when things are not going very well or there is something you don't quite understand, little personal contact is really a requirement. So it was time for something new! She asked my to make her a new website and take care of the images supporting the website.
Looking for a new theme
The design was outdated, there were no real professional pictures and the text was outdated. I had sone a little research and looked at some themes suitable for a personal injury expert. One evening we sat down and decided on the
Stockholm theme
. A nice, clean, fresh theme.
Photos for your website
With images on your website you need to consider your visitor. When does a visitor stay longer on your website then 3-5 seconds? By using images that match what you do. Authentic pictures with relevant authentic content that relate to what you're doing, will give you more conversion.
Relevant photos are looked at by visitors and not ignored as stock photos, and will therefore contribute to higher conversion (Nielsen Norman Group – eye tracking studies, in 2010, Conversion XL, 2014).
But how do you do that with injuries? I started to explain the above principe to her and some of the following ideas came up:
some with with broken limbs, with a cast,
someone 'under' is a car,
or a bike halfway under a car,
or a bag full of stuff spread out before a car is (maybe a bit too standaard stocky pictures)
which then suggest that there's been an accident. Christine had her reservations. She said that when a victim of an injury is searching for someone who will take care of his/her apotential personal injury case, the last thing they would want to see are pictures of injuries. And she really did;t want thise on her website. She wants the visitor to have the feeling things will be taken care of.
Ambiance photos
Christine really wanted to have ambience photos on her website, and she is very fond of horses. Taking into account the above facts we took as many functional pictures not showing direct injury. to be able to do this and to work on finishing the website we went to one of the Dutch elands for a weekend.
We chose to keep the ambience photos as much as possible on the mediation page. On one of our short grocery shopping trips, I noticed a small shop with all sorts of trinkets on and by the door. There were also seahorses and hearts. The hearts had a beautiful red colors and lit nicely against the blue tones that hung in-between. These pictures are used on the mediation page and the about us page. Last year we already made her profile pictures and she had this beautiful red jacket that contrasted very nicely against the greens of the meadow in front of her house. So the red color, which also appears in the mediation logo, pops up in small details and in the photos on the website.
Functional photos
For the homepage and the injury part we wanten the pictures to be more businesslike and functional. Christine thought it would be great said when we if there was an ambulance or police car in the pictures. But on such a small island there are only one or two of those driving around. Or not driven at all. And it's not something very easy to organize. But as we were taking the photos for her homepage, and I was squatting in the middle of the road, I saw in my peripheral vision, that a police car was driving towards us. Christine quickly walked across the road and voila we had the photo with a police car. She was very happy with the results.
Photos for the title area
Lastly, the images that were used as background for the title area are pictures I made during my stay in Qatar in 2015. I was setting up her website and using her old texts, when I decided to use those to give the website some visuals and color. They are all different pictures but of the same place (the desert), with the same kind of 'background' (sandy neutrals), and they have the same kind of feeling (abandonment). And most pf them have in common the parts of cars that were left behind in the desert. First I saw a tire, then some other car parts and I just had to photograph them. And how cool is it that they found their place on this website! They give the visitor the suggestion of an accident but it is not the standard suggestive (bloody) image of it.