Paar weken geleden werd ik door SIR Communicatiemanagement gevraagd om foto's te maken van een bijeenkomst, een inspiratietraining ("Hoe voer je het participatiegesprek over de omgevingswet?)", dat ze zouden geven in Het Nieuwe Kantoor in Utrecht. Deze foto's en stukjes film gaan ze gebruiken in hun marketing en promotie van hun producten en diensten. Hun investering (1 uur fotografie) zal gauw terugverdiend zijn, gok ik zo!  
Also in English at the end 🙂
Foto's maken van een bijeenkomst in hartje Utrecht
Op 21 september van dit jaar vroeg een medewerker van SIR Communicatiemanagement of ik foto's wilde maken van een bijeenkomst die ze gaven in Het Nieuwe Kantoor in hartje Utrecht. Ook wilde ze wat video materiaal. Het viel mij gelijk op dat het gebouw open en licht is opgezet en dat er veel ondernemers zitten. Echt een mooi gebouw om te zitten!
SIR Communicatiemanagement is een strategisch communicatiebureau in Enschede en Utrecht. In onze visie is communicatie een relevant gesprek. Dat is het vertrekpunt van onze werkwijze. We helpen overheden, publieke organisaties en dienstverleners met het organiseren van dit gesprek met hun omgeving op basis van een slimme strategie, goede content en middelen die het publiek bereiken. En waarmee het publiek jou bereikt.
Foto's maken van een bijeenkomst in een hele lichte (meeste licht kwam van achteren), best wel smalle, ruimte is best een uitdaging. Voor zowel fotograaf als deelnemers. Ik stond best dicht op ze om zo de beste momenten te pakken natuurlijk maar ook omdat ik niet echt veel keuze had waar te gaan staan. En ik zat al gauw met mijn rug tegen de muur. Dus het was best een beetje "zweten" kan ik zeggen 😉 . Maar ik ben trots op de foto's die ik gemaakt heb, en ik heb ookal  gehoord van SIR Communicatiemanagement dat ze de foto's heel erg mooi vinden en heel blij zijn met de mijn foto's!
De deelnemers van de bijeenkomst waren best snel aan mij en mijn "geklik" gewend. Het is ook altijd prettig als je dan merkt dat ze gewoon weer doorgaan met waar ze mee bezig zijn. Je bent trouwens niet meer zo "aanwezig" wanneer je een kort praatje maakt of even een opmerking of grapje maakt, waardoor het ijs breekt. Als je namelijk helemaal niets zegt dan ben je pas echt "aanwezig". Grappig maar zo werkt het vaak wel.
De bijeenkomst was om de deelnemers kennis te laten maken met hun lesmateriaal, hun tools: Participatie stappenplan, Publieksanalyse, Publiekswaaier, Participatietrap en de Participatiebox. Sommige van deze tools zijn ook te downloaden via hun website!
Een beeldverslag van deze bijeenkomst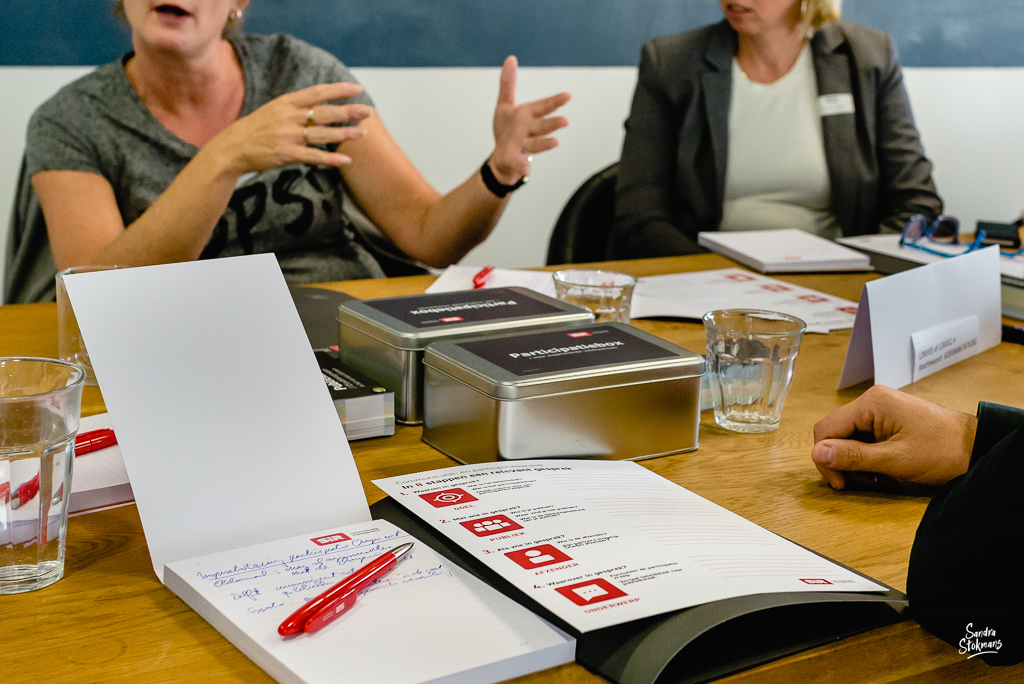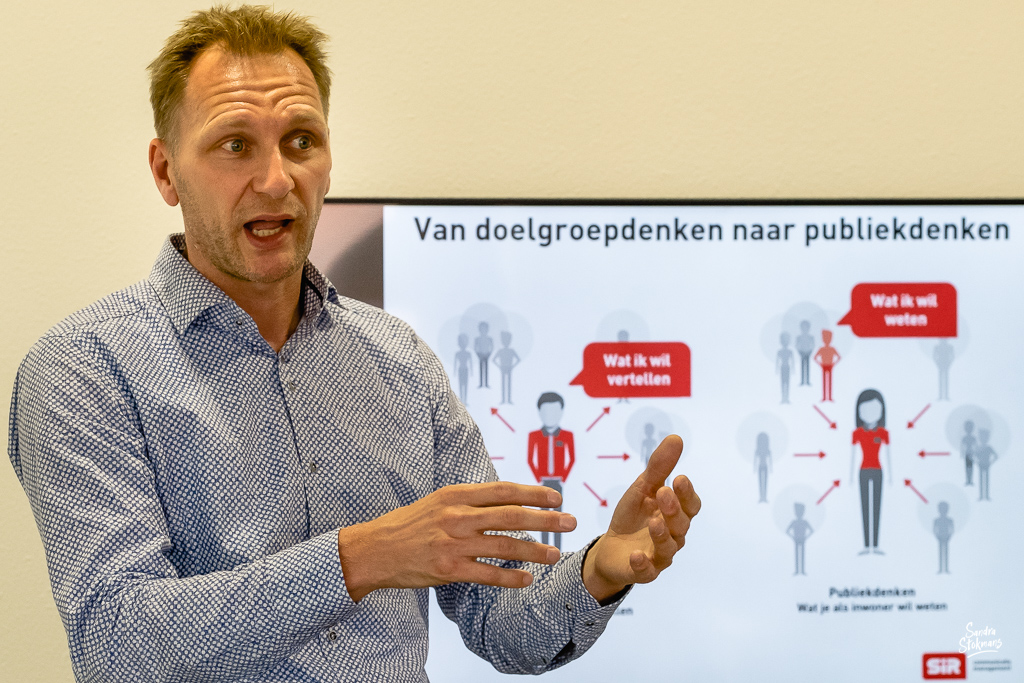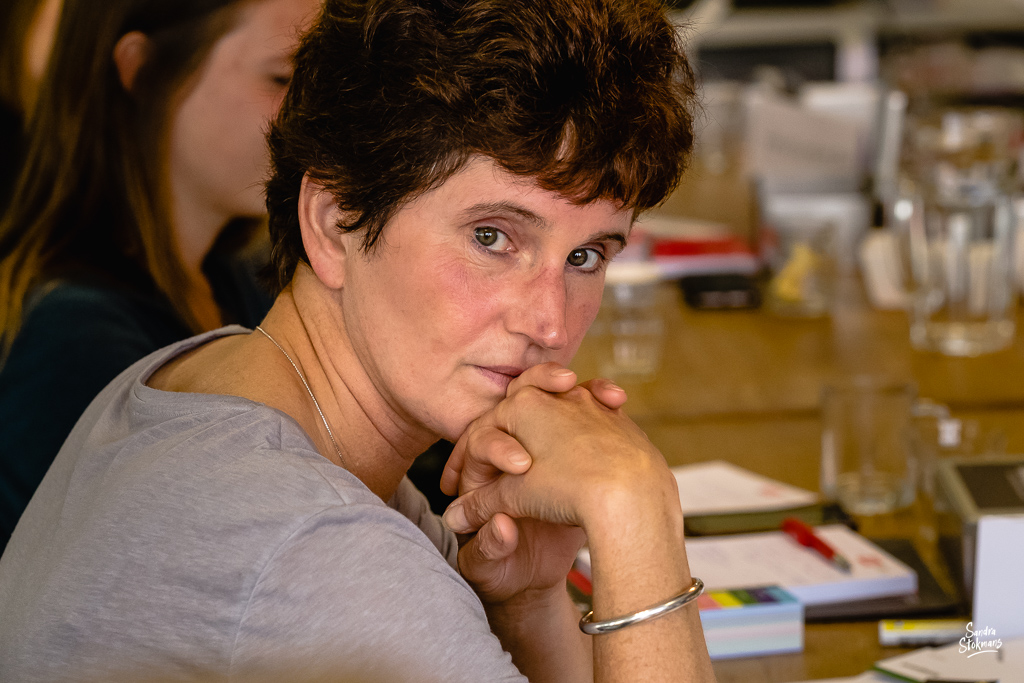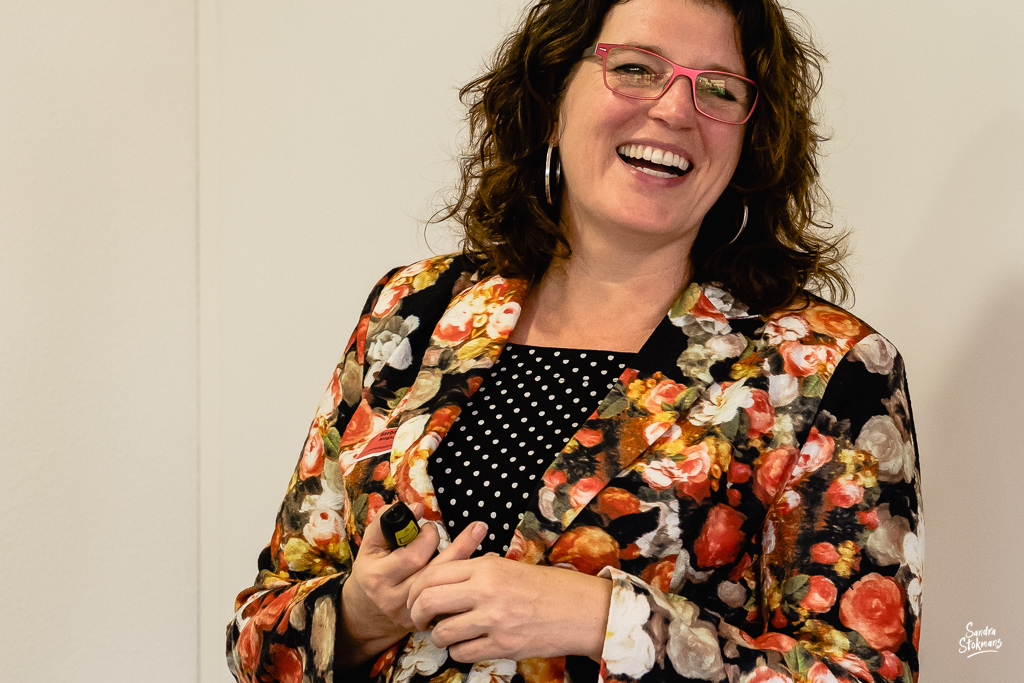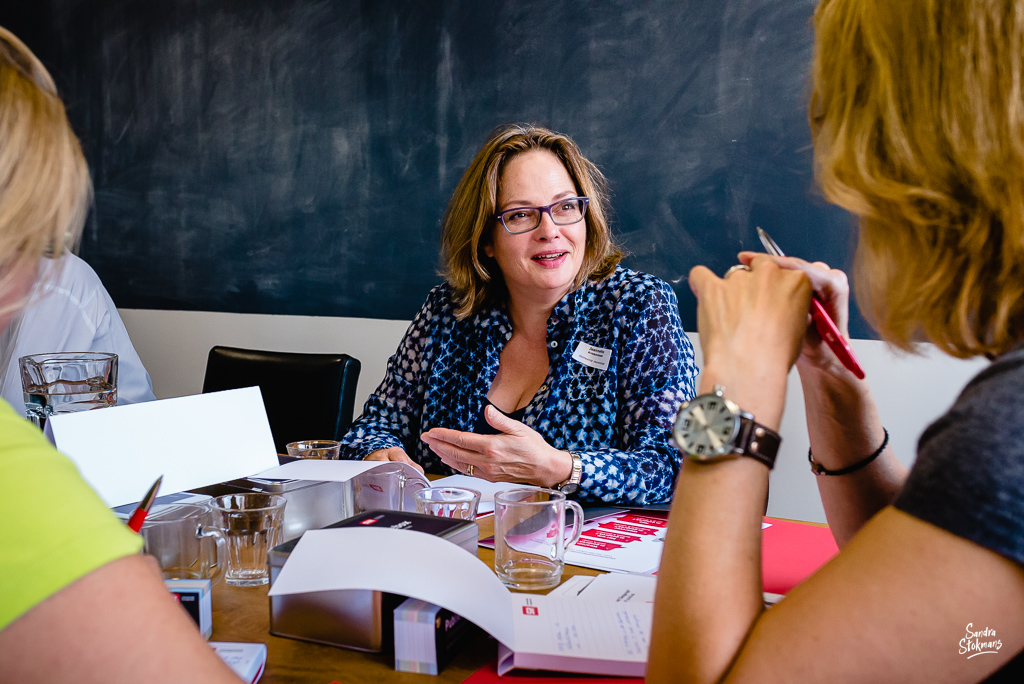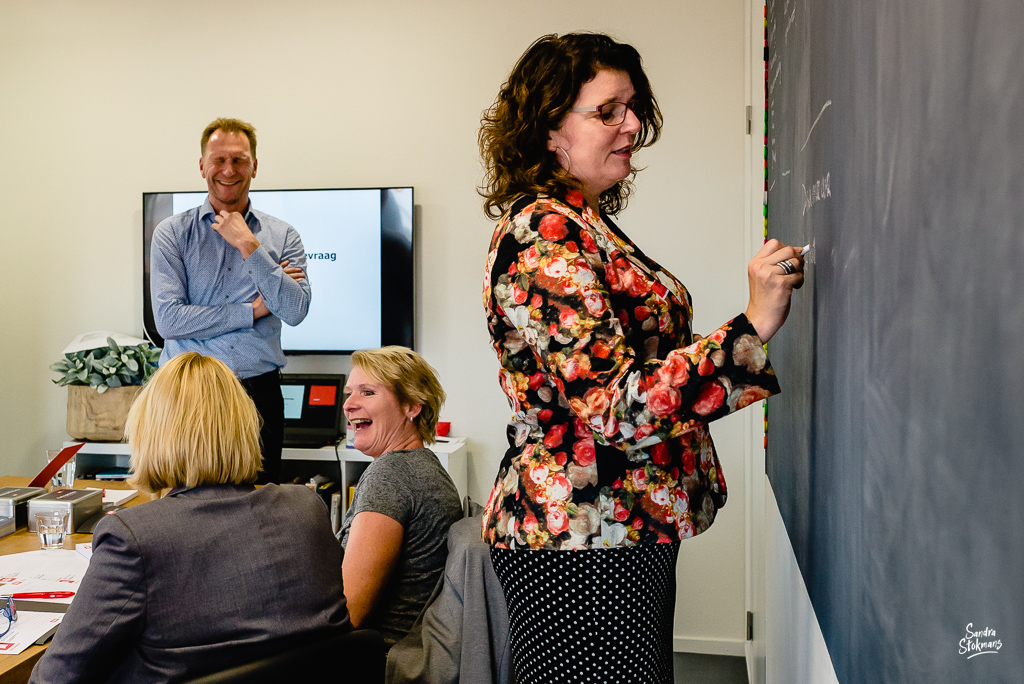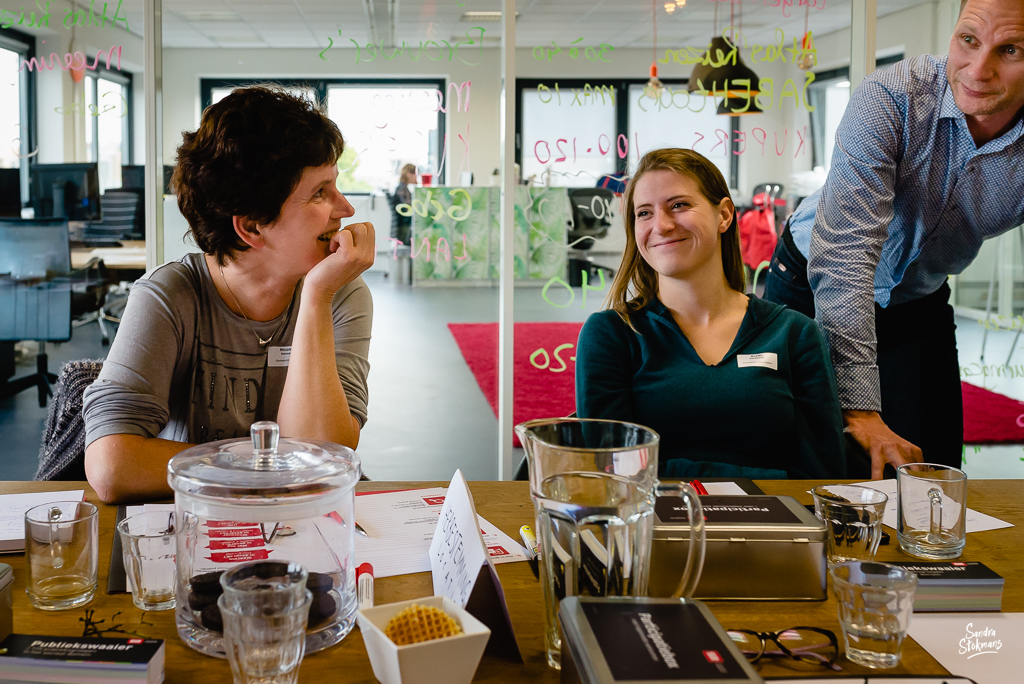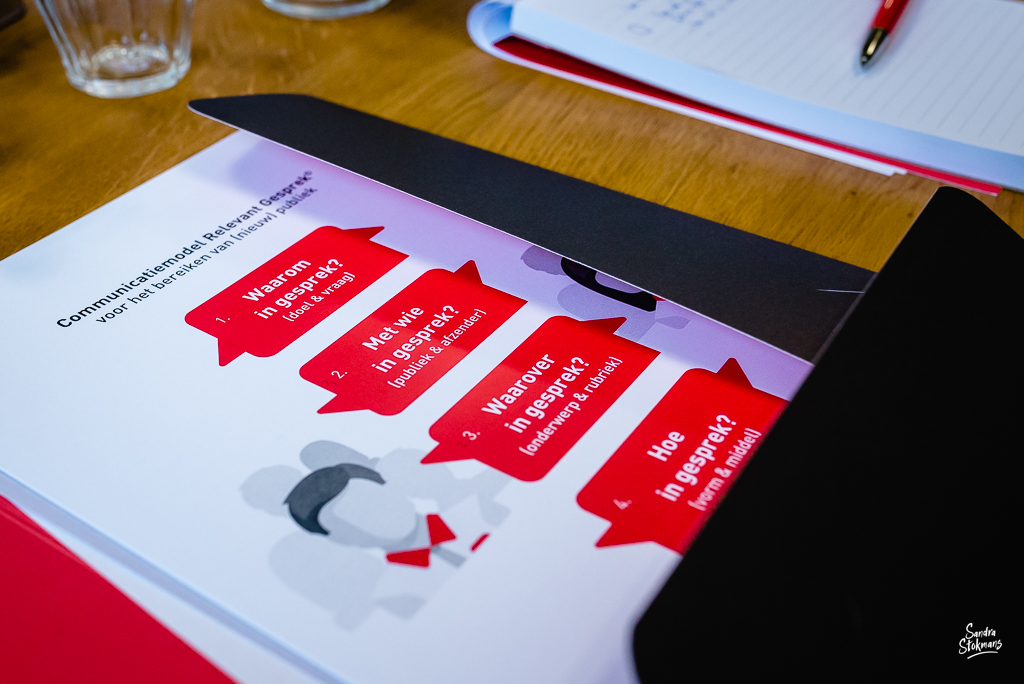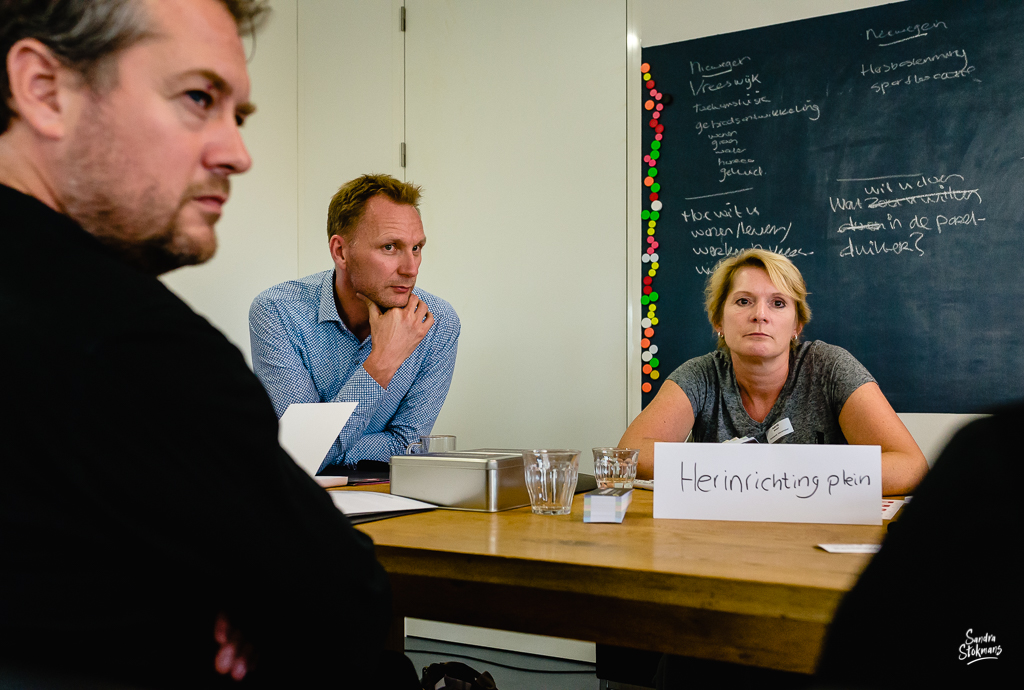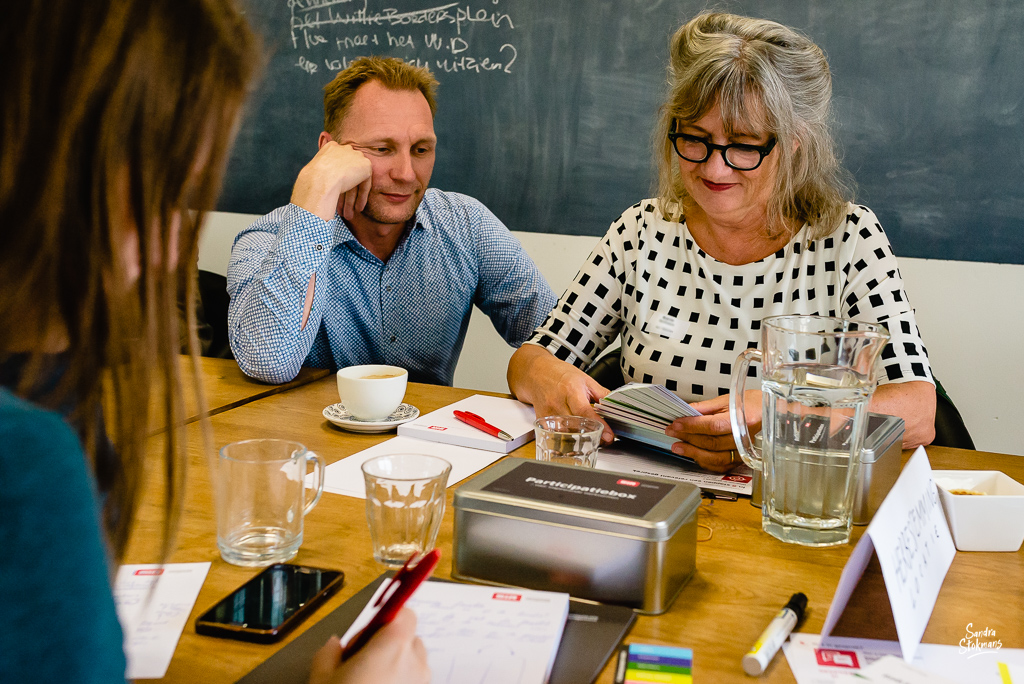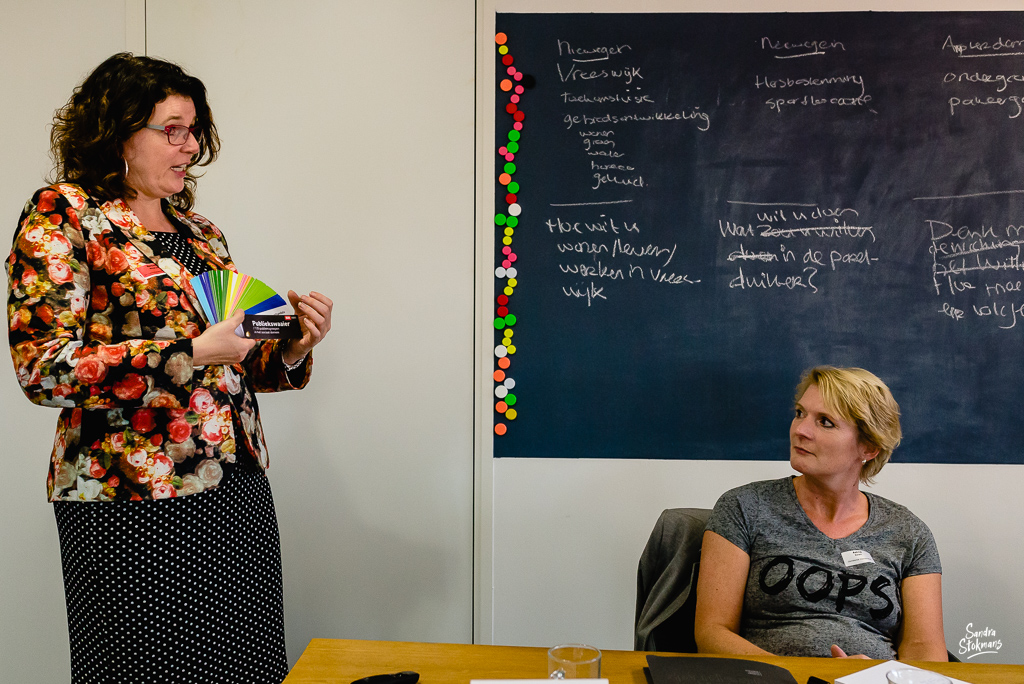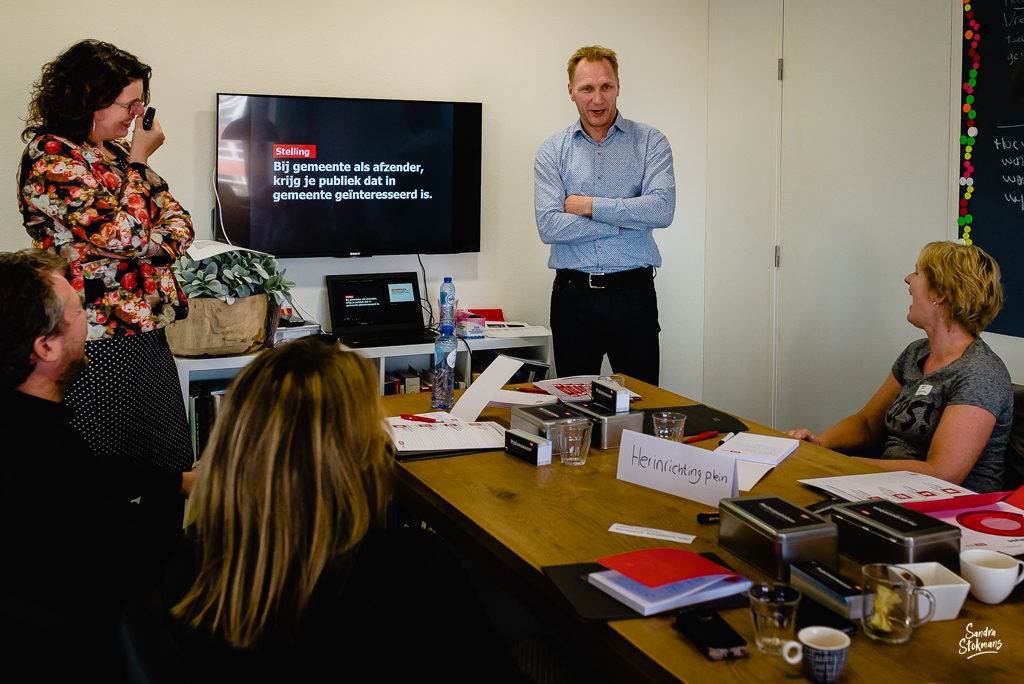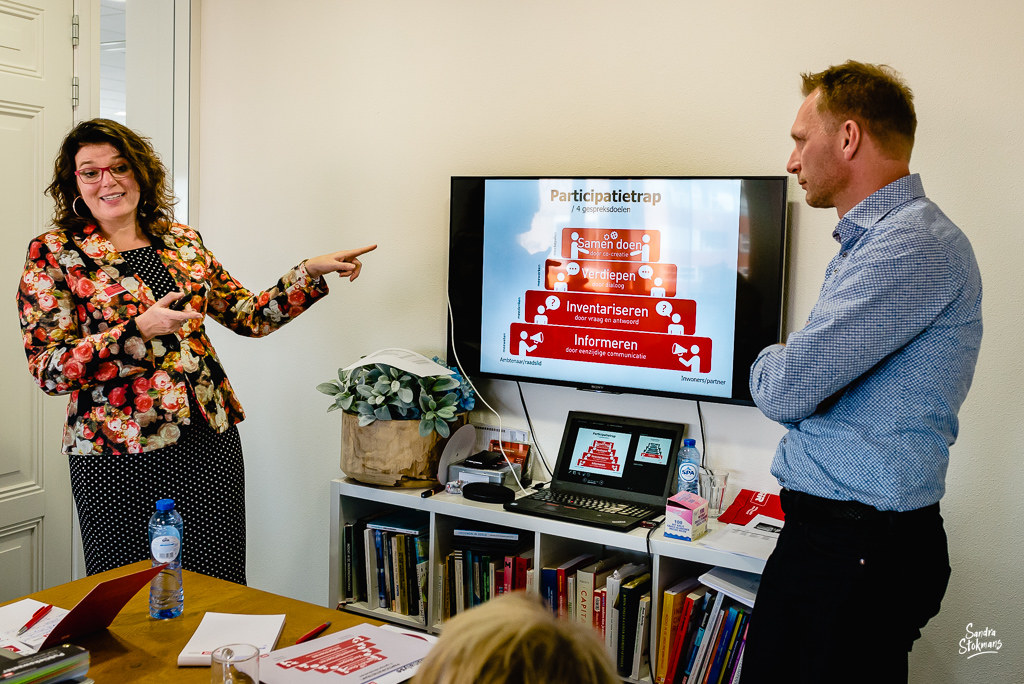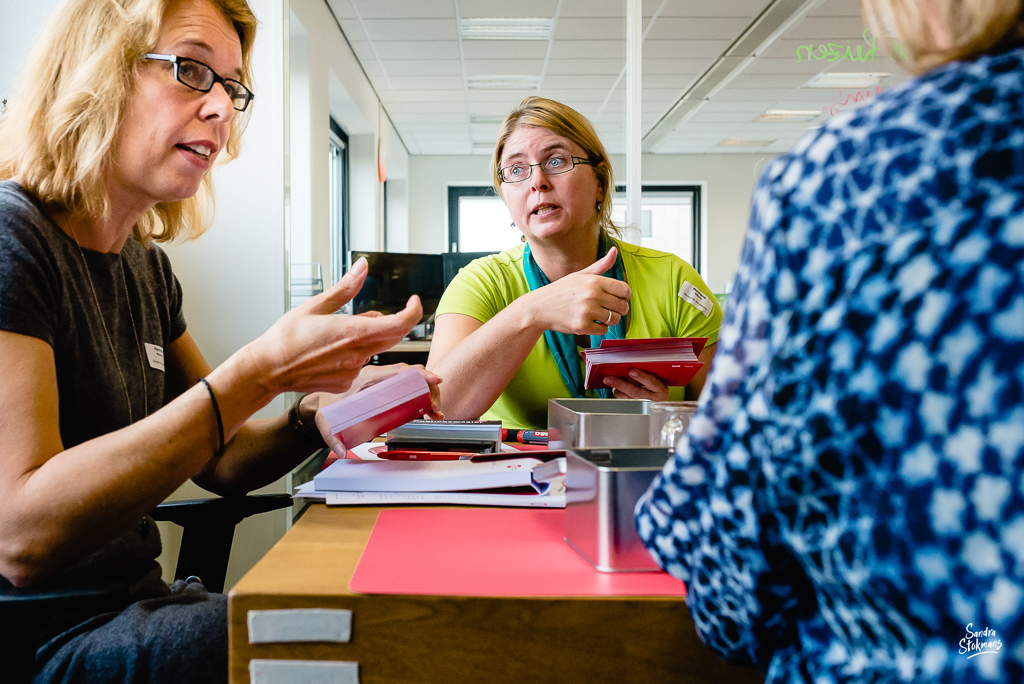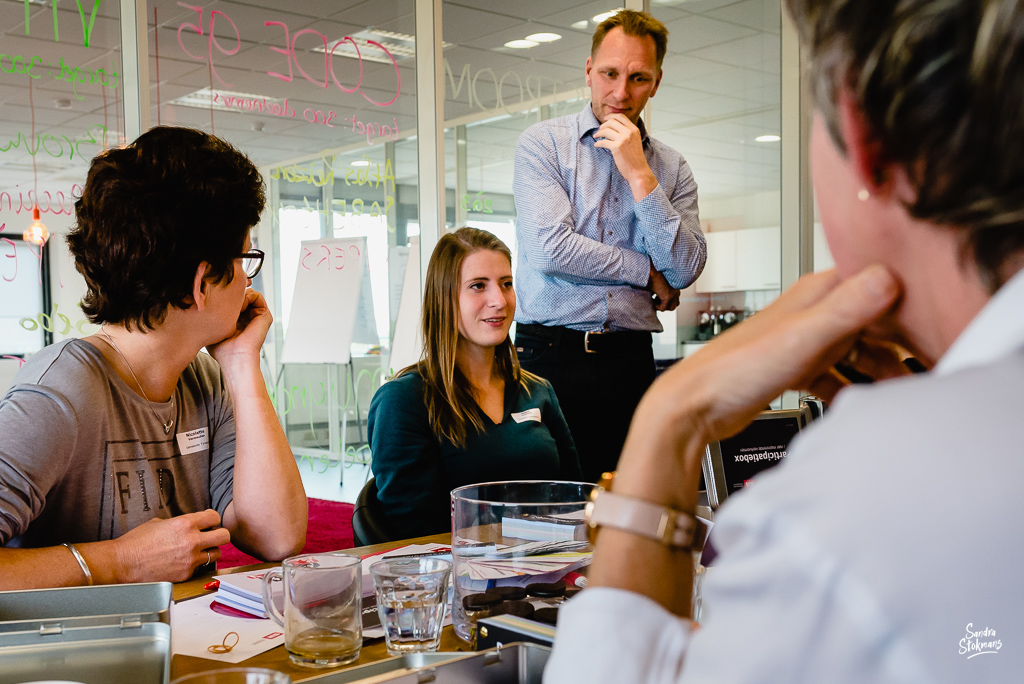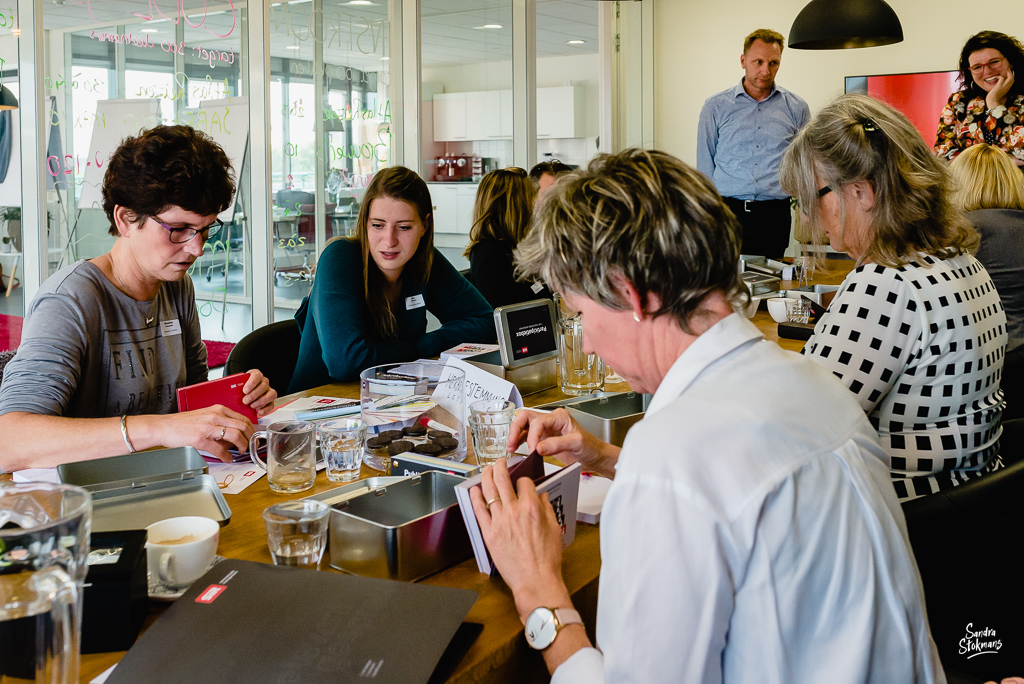 ENGLISH
Taking photos of a meeting in Utrecht
A few weeks ago, I was asked by SIR Communicatiemanagement to take pictures of a meeting, an inspiration training, which they would give in Het Nieuwe Kantoor in Utrecht. They will use these photos and parts of film in their marketing and promotion of their products and services. I suspect they will have their return on investment (1 hour photography) in no time!
Making photos of a meeting in Utrecht
On the 21st of September an employee of SIR Communicatiemanagement asked if I would document the meeting they were having in Het Nieuwe Kantoor in Utrecht. She also wanted some video material. When I arrived at Het Nieuwe Kantoor in Utrecht I noticed immediately that the building was open and light and that many entrepreneurs work there. A very nice office building to have a working space!
Making photos of a meeting in a very light (light came from the back), rather narrow, space is quite a challenge. For both photographer and participants. I had to be close to them to capture the best moments of course, but also because I did not really have a lot of choice to stand. And I was already standing/sitting with my back against the wall. I'm proud of the photos I've made, and I've also heard from SIR Communicatiemanagement that they really like the pictures and are very happy!
The participants of the meeting got used to me and my "clicking" pretty quickly. It is also great when you notice that they just keep doing what they are doing. And you are no longer "present" when you make a short talk or make a comment or a little joke, causing the ice to melt. You ARE really "present" when you say nothing. Quite funny to experience the difference on how that works.
The meeting was to get the participants acquainted with their teaching materials, their tools: Participation Steps, Public Research, Public Fan, Participation Stage and the Participation Box [translated from Dutch]. Some of these tools can also be downloaded through their website!