Wat kun je doen met een foto, met een van de vele foto's, die je hebt gemaakt tijdens een reis? Behalve dan dat je ze gebruikt in een fotoalbum over die reis. Gebruiken als beeldmateriaal voor een website, artikel in een tijdschrift, reisbrochure, voor social media? Serieus, informatief of grappig door een interessant of grappig citaat? Inspirerend door een 'inspirational quote'? 
Bij bijvoorbeeld LinkedIn, zoals veel vormen van social media, wordt veel gebruik gemaakt van tekst. Beeld ter ondersteuning van tekst wordt ook hier de trend. Een bericht met afbeelding wordt op Facebook en Twitter zelfs beter bekeken dan een bericht zonder afbeelding.
Bovenstaande foto's had ik genomen tijdens een reis door Israël in 2008. Mijn broer is getrouwd in Nederland en vervolgens hebben ze hun trouwfeest in Tel Aviv, Israël gegeven. Zijn vrouw komt daar vandaan. Al haar familie en vrienden wonen daar. Wij zijn als gezin (mijn ouders, broer, mijn vriend en onze 7 maanden oude zoon) met een aantal van hun Nederlandse vrienden naar Israël gevlogen.
Na het trouwfeest zijn wij met z'n allen, allebei de families, gezamenlijke Nederlandse vrienden (waarvan 2 zwangere dames) en een paar van haar Israëlische vrienden (waarvan 1 zwangere dame) door Israël gereisd. Ze hadden een heel divers programma bedacht voor de vier dagen: Tel Aviv, Haifa, Akko, Caesarea, Judean Desert (Masada, Bedouin kamp), Dead Sea, Ein Gedi, Jerusalem. Onderstaande foto is genomen in de woestijn van Judea. In het zuidelijk deel van Israël en de westelijke Jordaanoever. Bij het Bedouin kamp.
Toen wij daar aankwamen met de grote oranje bus was het extreem rustig. Er waren geen mensen (in het zicht), geen verkeer, alleen een boel kamelen. Bijna alle kamelen lagen in de snoeihete zon rustig voor zich uit te turen. Een paar stonden. Het was een prachtige rustige plek.
Over de reis door Israël op een ander moment meer…
Dit beeld was tekenend voor hoe de kamelen er bij stonden, bij zaten, bij lagen…
Dus wat kun je doen met een foto die je hebt gemaakt tijdens een van je reizen bv? Toen ik bezig was met de blog over CANVA, heb ik deze foto genomen als voorbeeld. En daarbij kwam gelijk in gedachte een uitspraak van mijn vriend. Meestal veroorzaakt deze uitspraak grote hilariteit, een enkele keer wat ergernis ;).
---
De "oude" foto heb ik gebruikt om een uitspraak uit te beelden, kracht bij te zetten…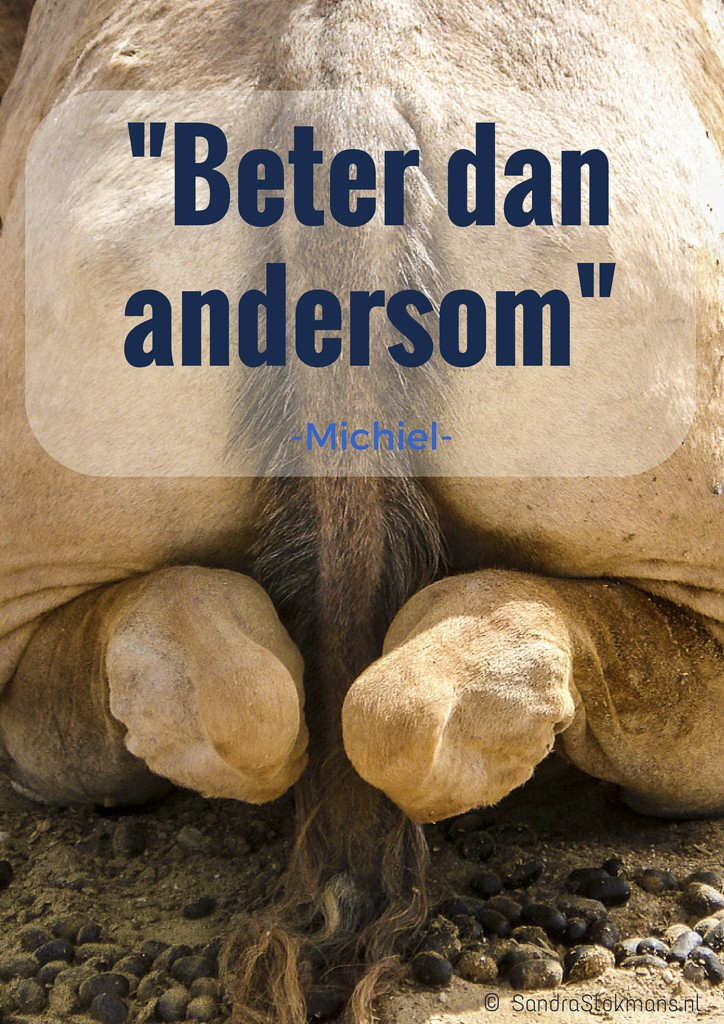 Wat vind jij ervan? Hoe gebruik jij je foto's, anders dan in een fotoalbum?
---
ENGLISH
How can you use a photo, one of the many photos that you make during a trip? Other than use them in a fotoalbum about the trip. Use it as visual material for a website, a magazine article, a travel brochure, for social media? Serious, informative or funny by using an interesting or funny quote? Inspiring by using an 'inspirational quote?
LinkedIn, for example, like many forms of social media, uses a lot of text. Images supporting the text is going to be a trend here. Visuals get higher engagement, better views, on Facebook and Twitter than a message without an image.
I took the photos in the picture collage during a trip to Israel in 2008. My brother got married in the Netherlands and then they had their wedding party in Tel Aviv, Israel. His wife is Israeli. All her family and friends live there. We as his family (my parents, brother, my friend and our 7 month old son) flew over with some of their Dutch friends to be there at their wedding party.
After the wedding, both families, joint Dutch friends (including 2 pregnant ladies) and a few of her Israeli friends (including one pregnant lady) traveled through Israel. They had a very diverse program devised for the four days: Tel Aviv, Haifa, Acre, Caesarea, Judean Desert (Masada, Bedouin camp), Dead Sea, Ein Gedi, Jerusalem. The picture of the camels butt was taken in the desert of Judea. In the southern part of Israel and the West Bank. At the Bedouin camp.
When we got there with the big orange bus it was extremely quiet. There were no people (in sight), no traffic, just a bunch of camels. Almost all the camels are lying quietly in the hot sun gazing into the sandy distance. A couple are standing. A beautiful quiet place.
About the trip by Israel at another time … more
So how can you use a photo that you have made during your travels for example? When I was working on the blog about CANVA, I took the picture of the camels butt as an example. Directly, a statement my boyfriend thought up and uses came to mind. Mostly this quote causes a lot of laughter, and sometimes chagrin ;).
I used the "old" photo to amplify a quote… The quote translated from Dutch is "beter than the other way around".
So what is your perspective? How do you use your photos, other than in a photo album?