Afgelopen zondag heb ik een workshop Flitstechnieken gevolgd van Asiso (Sonja van Driel).  Ik wil mij nog verder ontwikkelen en specialiseren in natuurlijk licht, alleen wilde ik ook al heel lang wat meer verdieping in flitstechnieken. Haar workshop heeft als ondertitel "Van toevalstreffer naar voltreffer", en tijdens deze workshop heb ik een aantal nieuwe inzichten opgedaan op flitsgebied en ook in de praktijk geoefend, die ik graag met jullie wil delen.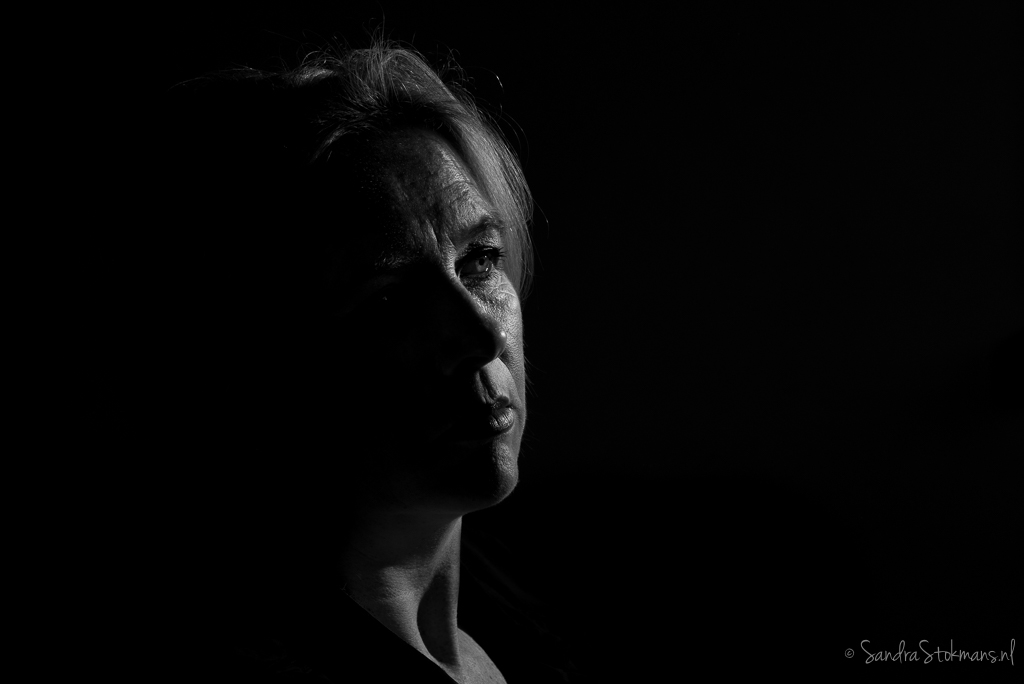 Flitstechniek inzicht 1
Je kunt je reportage flitser op de camera gerust op (i/e)TTL laten staan (through the lens – automatische stand) voor het meeste wat je doet. Afhankelijk van de hoeveelheid reflectie (van licht) maakt de camera zelf een berekening voor het afgeven van het flitslicht. Op de manuele stand heb je de volledige controle over hoeveel licht er moet worden afgegeven. De mate van reflectie is hierbij dus niet relevant. En hoek van inval is de hoek van uitval. Dit kun je aanpassen door de kop van de flitser te kantelen.
Flitstechniek inzicht 2
De belichting van de achtergrond (achtergrondmeting) staat los van het onderwerp waarop je flitser gericht is. Het flitslicht kan alleen maar op de afstand waarop je hebt scherpgesteld, het onderwerp dus, correct belichten. Dit betekent meestal dat eventuele onderwerpen voor het punt waarop scherp is gesteld overbelicht worden en onderwerpen achter dit punt voor niet meer belicht (of alleen met wat strooilicht). Dit betekent dat je met flitslicht geen goed belichte foto kunt maken met onderwerpen die achter elkaar staan.
Indirect flitsen levert de mooiste foto's op (vind ik 🙂 ). Alleen moet je wel opletten dat de afstand tussen jou, het plafond (of wand) en het onderwerp voor het flitslicht te overbruggen is.
Hieronder de voorbeelden waarbij het omgevingslicht en het flitslicht gecombineerd worden. De foto's zijn ter illustratie zo uit de camera gekomen, zonder bewerking. Let op de achtergrond, deze is hetzelfde belicht in beide foto's.
Flitstechniek inzicht 3
Flitsen met een losstaande reportage flitser (dus niet meer op je camera, off-camera flitsen) gebeurd meestal op de manuele stand. Je hebt daarvoor een TTL flitskabel nodig (kun je ook in TTL stand gebruiken) of met een transmitter setje (houdt in een zender en een ontvanger), of je kunt dit doen middels draadloze flitsbesturing. In het boekje van Sonja van Driel "Flitsen met een reportageflitser" wordt het allemaal ook goed uitgelegd; dit voor de geïnteresseerden. Wij hebben met transmitter setje gewerkt.
Met off-camera flitsen kun je bij het maken van portretten variëren met de belichting. Zelfs in een lichte kamer kun je portretten krijgen met zwarte achtergrond (je hebt geen achtergrondrol nodig). Wat je doet is hetzelfde als hierboven: je zorgt ervoor dat de omgevingsbelichting donker wordt, bijna zwart, door het onder te belichten. Dit heeft geen effect op de belichting van het model omdat deze wordt belicht door de flitser. Dus met de losstaande flitser belicht je het onderwerp zoals jij dat voor ogen hebt.
Het resultaat nadat de foto's bewerkt zijn: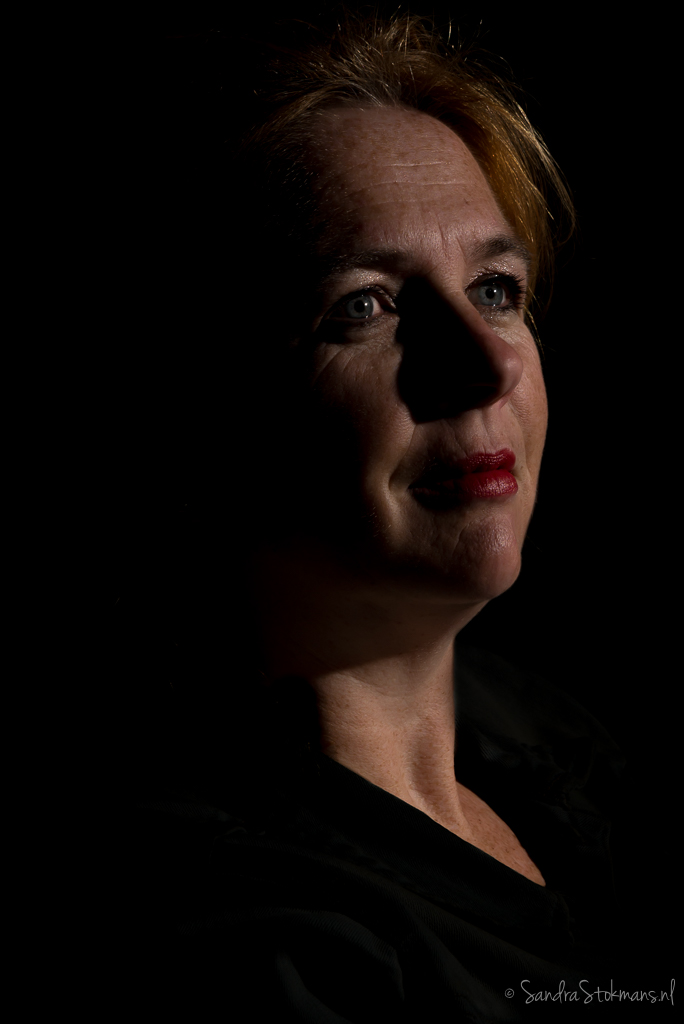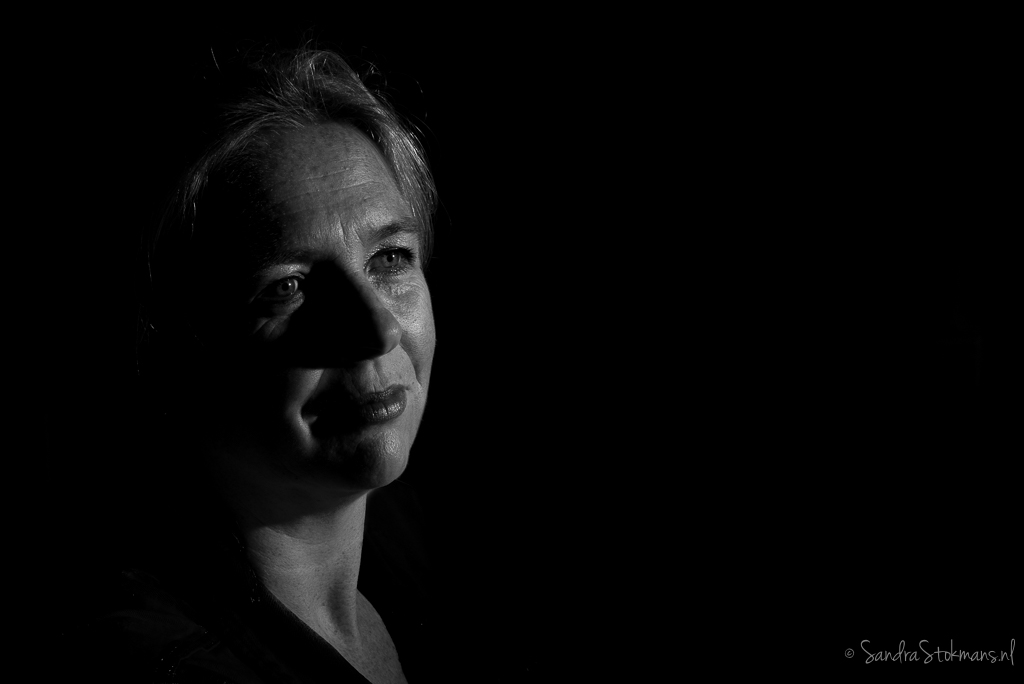 Flitstechniek inzicht 4
Flitsen met een trage sluitertijd kan soort van space achtige foto's opleveren. Met de juiste belichting, je sluitertijd op 0,5 sec, je flitser op TTL en dan met je camera rondjes draaien of slepen of met je lens heel snel in en uitzoomen kun je echt grappige (bewegings) effecten krijgen!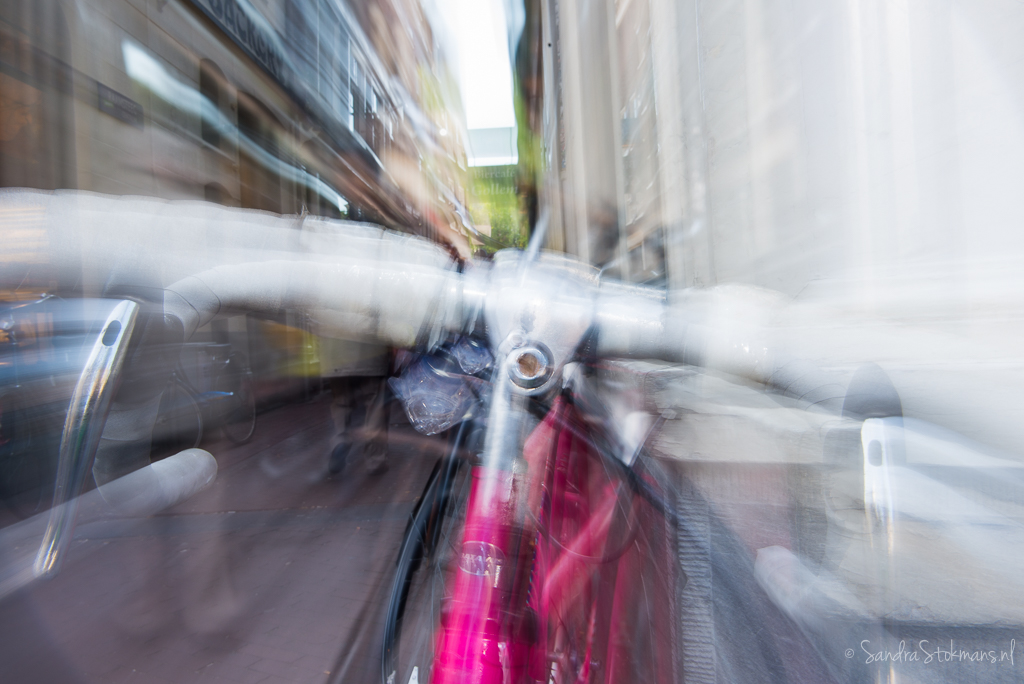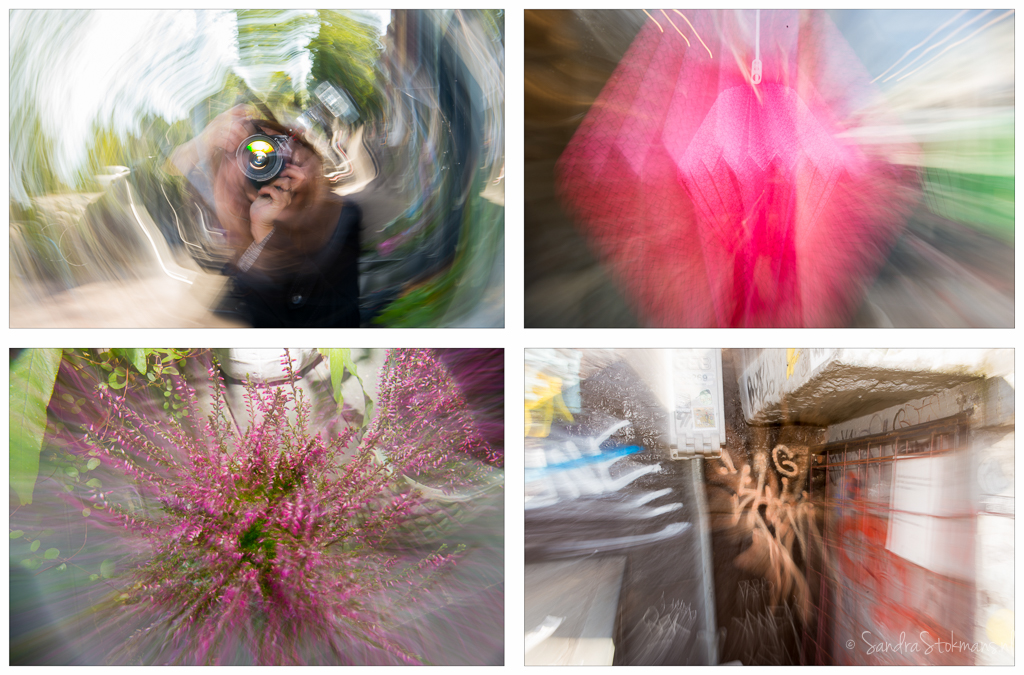 Foto's gemaakt door ronddraaien van camera en in- en uitzoomen van de lens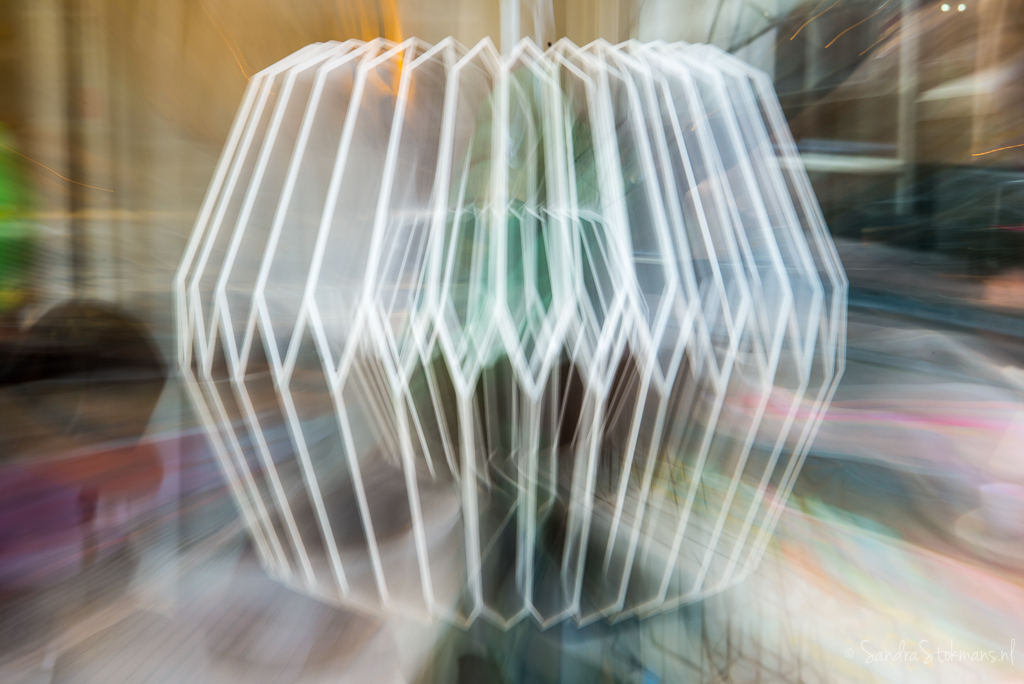 Overige factoren
Bij lage ISO of klein diafragma (bv F18) heb je meer licht nodig, dus de afstand tot het onderwerp kan niet heel ver zijn. Als je minder flitskracht vraagt dan kan de flitser meer afstand overbruggen.
De brandpuntafstand (bv 24mm of 100mm) bepaalt ook de lichtbundel van je flitser. Bij een kleinere brandpuntafstand zoals 24 mm zal de lichtbundel groter zijn dan bij 100mm. Met 100mm heb je minder flitslicht of flitskracht nodig en wordt de flitsafstand groter die je kan overbruggen met je flitser. Het grotere oppervlak bij 24mm heeft meer flitskracht nodig met als gevolg dat er een kortere flitsafstand mogelijk is.
En dan heb je nog natuurlijk te maken met de witbalans. Sonja gaf aan dat daglicht (Kelvin 5500) en flitslicht goed met elkaar mengen. Zij heeft bijvoorbeeld meestal haar witbalans op bewolkt staan (ca Kelvin 6500).
En nog paar leuke wetenswaardigheden:

het doorzichtige klepje wat in de flitser zit is een groothoekadapter. Als je een grotere hoek wilt pakken dan waarvoor de flitser licht kan afgeven en goed over het beeld kan verspreiden bv va 17mm, dan kun je dit klepje gebruiken. Deze zorgt dat het flitslicht naar alle kanten verspreid wordt. De flitsafstand wordt daarmee wel een stuk korter. Zorg er altijd voor dat als je dit niet gebruikt dat het klepje heel goed is teruggeschoven in de flitskop!
Een diffusorkapje zorgt ervoor dat de belichting van het onderwerp verzacht wordt. Het houdt een deel van het flitslicht tegen, de flitskracht is minder en de belichting wat zachter en minder contrastrijk. Hierbij wordt dan ook de maximale flitsafstand gelijk een stuk korter. Als je een lange flitsafstand nodig hebt om je onderwerp te bereiken gebruik dan het diffusor kapje niet.
Misschien kan je nu zelf aan de slag met sommige van deze inzichten. Succes!
---
ENGLISH
A few flash technique insights from the workshop Flash techniques by Sonja van Driel
Last Sunday I attended a workshop Flash techniques of Asiso (Sonja van Driel). I want to develop myself further and specialize in natural light. But for a log time I've also wanted know more about the use of a flash. Her workshop is subtitled "From fluke to hit," and I have gained some new insights on the flash and we also practiced using some of the techniques during the workshop. And I thought it would be nice to share that with you.