Als er een foto wordt genomen van je, heb je dan niet weleens de gedachte "had ik maar…"? Zeker als een foto spontaan genomen wordt heb je niet echt de tijd om na te gaan of er geen vlekken op je kleren of gezicht zitten, of dat je haar goed zit, of dat je das of ketting recht hangt, of dat er niet iets tussen je tanden zit, enzo. Maar als je weet dat je een fotoshoot hebt, zou het fijn zijn als je een aantal tips hebt die ervoor zorgen dat je alleen nog maar hoeft op te letten hoe je op de foto komt, toch?! Dit blog geeft je die fotoshoot tips die je kunt gebruiken voor het voorbereiden op een fotoshoot!
Uiterlijke verzorging
Less is more, naturel en een beetje kleur op wangen
Een foto vergroot alles. Ga jezelf niet te buiten wat de make-up betreft. Ga voor het klassieke en natuurlijke bij het toepassen van foundation (matte), oogschaduw, contouren, etc. Denk "less is more". Als je wallen hebt kun je een beetje concealer gebruiken. Een beetje kleur in je wangen staat altijd goed, en een crème of matte blush zal je gezonder "maken".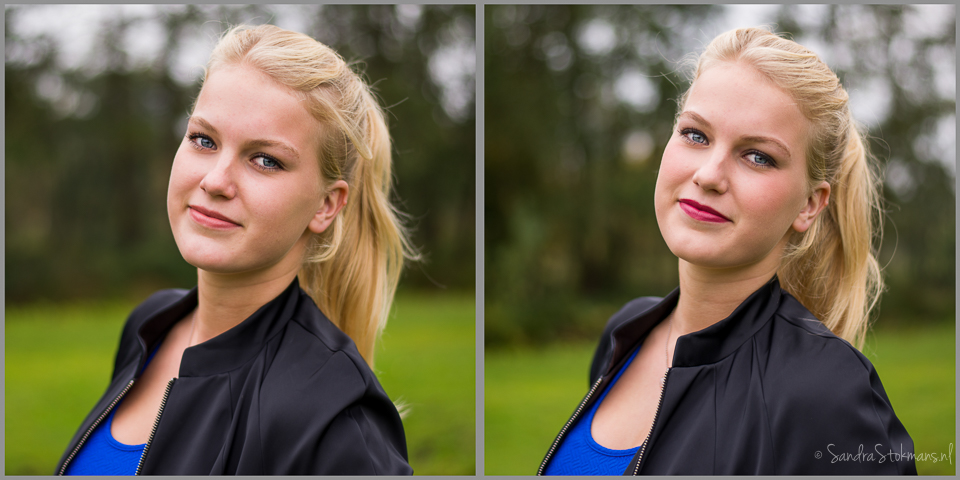 Zorg voor schone nagels en poets je tanden vlak voor een fotoshoot 🙂 !
Kam haar- (de avond voor de shoot gewassen en de dag zelf gestyled, beetje haarlak zeker lang haar) en/of baardklaar (of gladgeschoren) en breng eventueel een borstel, kam, etc mee voor tijdens de shoot.
Als je lippen te droog zijn neem dan een lippenbalsem mee. Vochtige lippen zien er altijd beter uit.

Kleding tips
Hou het simpel, gemakkelijk en kreukvrij … en in lijn met je persoonlijkheid
Kies kleuren die mooi bij elkaar passen. Die elkaar aanvullen. Draag iets wat het beste bij je huidstoon past/kleurt. Mooi is ook als je een kleur bovenkleding uitzoekt die bij je ogen past. Hierdoor gaan je ogen nog meer opvallen!
Kies een outfit waar je je lekker in voelt. Maak jezelf mooi! Het is wel zo dat de kleding die je aantrekt het resultaat van de uiteindelijke foto kan beïnvloeden. De tip is dan ook om de kleding simpel te houden en drukke kleding, teksten, logos of patronen in de kleding te vermijden, omdat de aandacht dan wordt weggetrokken van jou/jullie, behalve als dat juist is wat jou JOU maakt. Effen kleding lijkt dan meestal de beste weg (liever geen wit, onder jasje kan dat wel), en alleen een klein of rustig printje kan best. Draag dus iets wat lekker zit, schoon is, dat niet kreukt, en niet je ondergoed laat zien. Zorg er ook voor dat alle kleren pluis- en haar vrij zijn.
Mannen, let erop, vlak voor de fotoshoot, dat je das goed zit (als je die aan hebt). En dames, let goed op dat sieraden goed zitten; is de sluiting per ongeluk zichtbaar?
Als het een winterse fotoshoot is kies dan voor lekker veel laagjes in bij elkaar passende kleuren. Dan is het ook makkelijker om zonder jas op de foto te gaan, zonder dat je het koud krijgt.
Als je op verschillende manieren op de foto wilt komen is het leuk om wat verschillende setjes kleding mee te nemen. Als je dit wilt, draag dan geen strakke kleding vlak voor de fotoshoot (anders zie je misschien striemen op plekken waar je dat niet wilt). En geef het wel aan bij de fotograaf, want het daarvoor zal (extra) tijd moeten worden ingepland om met de verschillende outfits op de foto te gaan.
Groepsfoto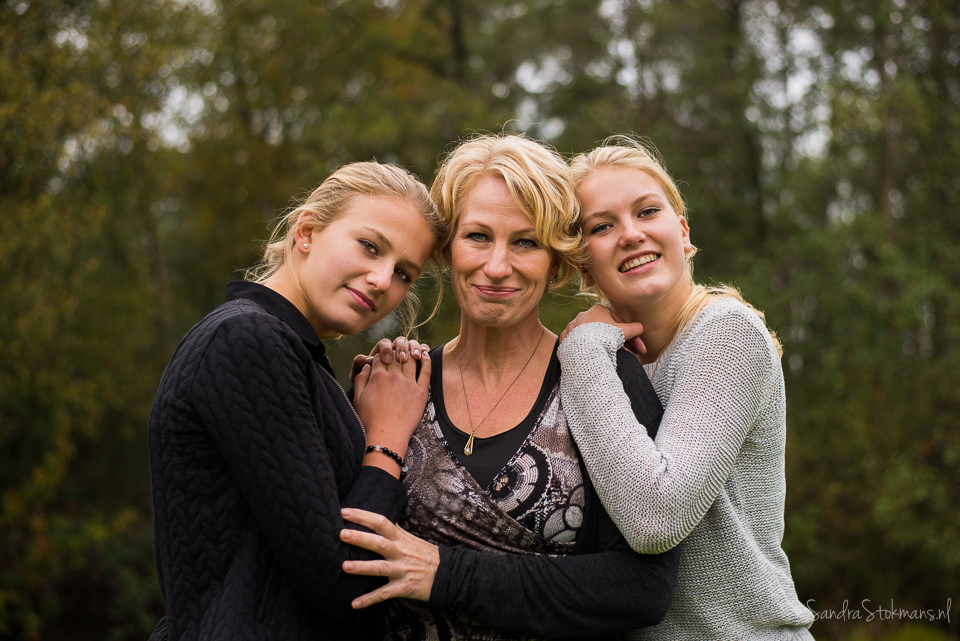 Voor groeps- en familiefoto's is harmonie het sleutelwoord. Kies eenzelfde stijl: vrije tijd of formeel of … . Probeer kleding aan te trekken die bij elkaar past qua kleuren, op elkaar is afgestemd of complementair is aan elkaar. Kies enkele kleuren uit waaruit gekozen kan worden door de groepsleden. Dat maakt het makkelijk om de kleding van te voren uit te zoeken.
Het wordt dan een mooi passend beeld met de verschillende variaties in de combinaties van kleur. Het hoeft niet perfect te zijn, niet "matchy matchy" te zijn (iedereen wit overhemd en spijkerbroek, liever niet 😉 ), maar ook niet zo dat een persoon er duidelijk boven uitsteekt. Het is mooi als de outfits "samen gaan" maar niet helemaal perfect bij elkaar passen. Je kunt altijd wat kleur of wat anders toevoegen door een mooi sieraad of mooie of aparte schoenen.
Kinderen 
Lichte kleding komt mooier over dan donkere kleding. Doe liever iets lichtblauw, zachtroze, beige etc. aan. Het is ook leuk om een heel felgekleurd extra shirt mee te nemen, blauw, turkoois, groen, roze bijvoorbeeld (geen fuchsia bovenkleding, het reflecteert in het gezicht). Rokjes bij (hele) kleine meisjes zijn niet altijd handig omdat ze nogal gauw verkeerd zitten en je dan de ondergoed ziet. Als je dit wel aantrekt zorg dan voor zelfde kleur ondergoed of kies gewoon voor een broek. 
Let op een goede houding, rug recht, buik in en schouders naar achteren
Als je je wilt voorbereiden op een fotoshoot dan is het handig als jij een beetje weet wat je wilt. Kijk van te voren naar een paar websites, bv van kledingmerken, of in mode tijdschriften want daar zul je veel verschillende houdingen zien. Op de website www.modelvote.nl vind je behoorlijk veel plaatjes van poseerhoudingen. Kijk ook eens naar mijn blog over Mooi op de foto staan? Een aantal poseertips …. Je kunt natuurlijk voor de spiegel een aantal gezichtsuitdrukkingen goed oefenen. De spiegel ziet wat de camera straks ziet. Kijk wat voor jou het beste werkt. Hoe meer je oefent hoe makkelijker en meer ontspannen je straks voor de camera staat.
Varieer je houding en je gezichtsuitdrukkingen tijdens de fotoshoot. Draai af en toe je hoofd een beetje, hou het ietwat scheef of kijk gewoon eens opzij. Gebruik niet altijd dezelfde glimlach. Probeer ook eens een klein glimlachje, een pruillip, een brede lach, boze blik, zwoele- of 'lege' blik of een frons. In de camera flirten levert ook vaak leuke resultaten op.
Om je op je gemak te voelen sluit je ogen en open ze langzaam vlak voordat de foto wordt gemaakt. 
 
En de allerbelangrijkste tip: ontspan, lach en heb plezier!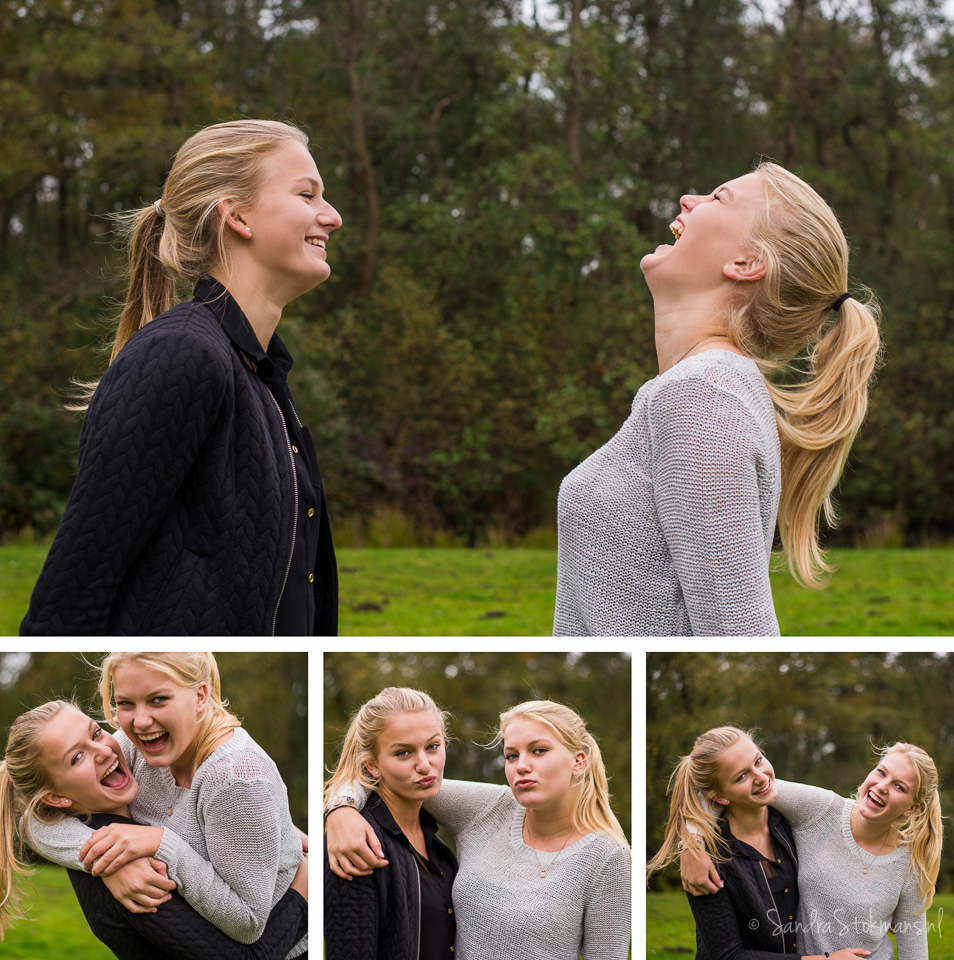 En oh ja zorg dat je wat gegeten hebt en neem wat drinken mee 🙂
---
ENGLISH
Get the most from your photo session with these photo shoot tips!
When you had your pictures taken, have you never thought "if only I had …"? Especially when a picture is taken spontaneously, you do not really have the time to verify if there are stains on your clothes or face, or if your hair has gone limp, or if your tie or necklace is hanging crooked, or if there something stuck between your teeth, etcetera. But if you know you've got a photoshoot it would be really great if you had a few tips to ensure that you only need to pay attention on getting your face right, right ?! This blog gives you those much needed photoshoot tips for preparing for a photo shoot!
Grooming tips
Less is more, natural look and a bit of color on the cheeks
A photograph enlarges everything. Do not overdo the makeup. Go for the classic and natural look when applying foundation (matte finish), eye shadow, contours, etc. Think "less is more" when applying your makeup. If you have bags under your eyes use a little concealer. Everyone benefits from a little color on her cheeks, and a matte or cream blush will make you look healthier.
Be sure to have clean nails and brush your teeth right before a photo shoot :)!
Comb hair (washed the night before and styled the same day, bit sprayed, especially log hair) and/or beard-ready (or clean-shaven) and bring a brush, comb, etc for brief touching up during the shoot.
If your lips are too dry bring a lip balm/moisturizer with you. Moist lips always look better.
Clothing Tips
Keep it simple, comfortable and wrinkle free … and aligned with your personality

Choose colors that blend well together. Complementing each other. Wear something that suits your skin tone / color. It is also nice if your upper garment has a color which suits your eyes. This causes your eyes to stand out even more!
Choose an outfit that makes you comfortable. Make yourself beautiful! It is true that the clothes you wear can affect the outcome of the final image. My advice would be to keep the outfit simple and to avoid busy loud clothing, texts, logos or patterns in the clothes, because then the attention will be drawn away from you. Except if that is wat makes you YOU. Plain clothes usually seems to be the best way (avoid white but underneath a jacket it's fine), and a faint pattern is fine too. Wear an outfit that is comfortable, clean, that does not wrinkle, and does not show your underwear. Be sure all clothes are lint and hair free.
Men, please note, just before the photo shoot that your tie is straight. And ladies, hide those bra straps and make sure the the closure of your jewelry isn't visible?
If it is a winter photo shoot opt for lots of layers in matching colors. It will be easier to have your picture taken without a coat and without getting cold.
If you want variety in the pictures, bring (a few) different sets of clothes. If you want this then do not wear tight clothing right before the photo shoot (otherwise you might see welts in places where you do not want them). Tell the photographer because it will take more time to take pictures with the different sets of clothes.
Group photo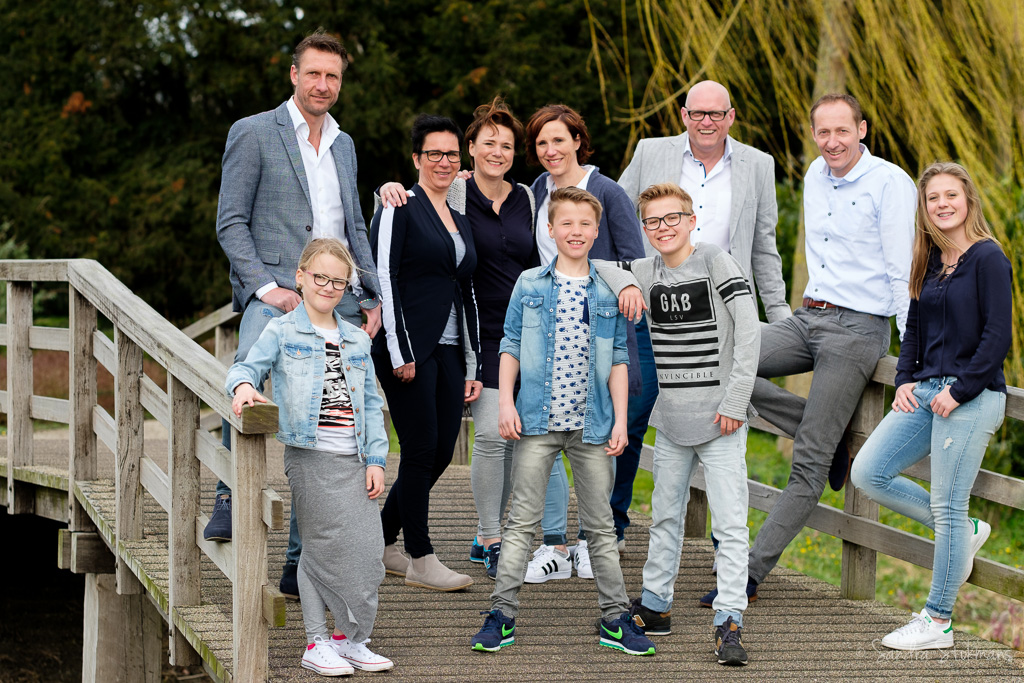 For group and family photographs harmony is the key word. Dress in a similar-style: casual or formal or … Try to put on clothes that fit together, that match or are complimentary in color. Choose a couple of the colors from which a group member can select their outfit. That makes it easier to pick out clothes.
It will become a beautiful image with the different variations in the combinations of the chosen color. It may not be perfect, but it will also ensure that no one will stand out. It does not have to be "matchy matchy" (everybody white shirt and jeans). It's nice if the outfits "go together" but do not fit quite perfectly. You can always add some color or something else with a nice piece of jewelry or beautiful or separate shoes.
Children
Light clothing is nicer than dark clothing: light blue, pale pink, beige and so on. It's also fun to take along an extra very brightly colored shirt, bright red, turquoise, green, pink for example (not fuchsia in upper garments it can create a color tinge in the face). Skirts on little girls are not always very convenient because you might see the underwear. If you do put on a skirt make sure she has the same color underwear on or just go for a pair of trousers.
Pose tips
Use good posture, back straight, stomach in and shoulders back
If you want to prepare for a photo shoot then it is useful to know what you want. Look at a few websites, eg from clothing brands, or in fashion magazines because there you will see many different poses. On the website www.modelvote.nl you can find a lot of pictures of poses. Take a look at my blog on posing tips: Mooi op de foto staan? Een aantal poseertips …. (=Nice in a photograph? Some posing tips ….). And you could also exercise before the mirror some facial expressions. The mirror sees what the camera sees later. See what works best for you. The more you practice the easier and more relaxed you will be in front of the camera.
Vary your posture and your facial expressions during the photo shoot. Occasionally turning your head a little bit, keep it slightly crooked or to the side. Do not always show the same smile. Try a little smile, a pout, a broad smile, scowl, zwoele- or "empty" look or a frown. Camera flirting often produces great results also.
To feel at ease close your eyes and open them slowly just before the photo is taken.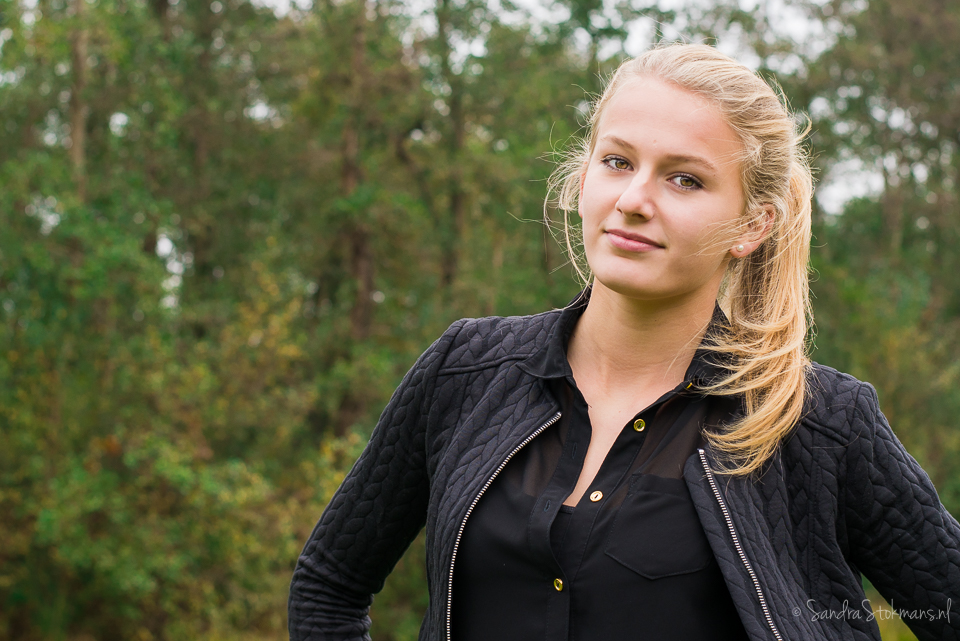 And the most important tip: relax, laugh and have fun

!