De zomervakantie is begonnen! En waarschijnlijk ga je foto's maken of wordt je gefotografeerd… Wanneer de zoveelste (vakantie)foto van je langskomt met een driedubbele onderkin of uitgezakte … baal je misschien wel een beetje, toch? Zou je niet een aantal bruikbare (poseer) tips willen weten om dit een beetje te beperken? Deze poseer tips zijn te gebruiken bij informele gelegenheden of voor geposeerde portretten. Met de eerste 2 tips kom je al een heel eind!
Rug recht en schouders iets naar achteren en naar beneden trekken. Je borst gaat dan vanzelf naar voren. Niet teveel want dat ziet er dan weer gek uit. Dit is een mooie houding, je komt langer en slanker over.
Leun iets naar voren vanaf je middel naar de camera. Niet naar achteren, wat voor veel mensen een natuurlijke reactie is als een camera naar ze gericht wordt, in elk geval wel bij mij. En/of kijk iets omhoog (kantel kin licht naar voren – trucje: oren iets naar voren). Dit voorkomt een onderkin en maakt ook langere nek. Dit voelt heel onnatuurlijk maar maakt echt het verschil!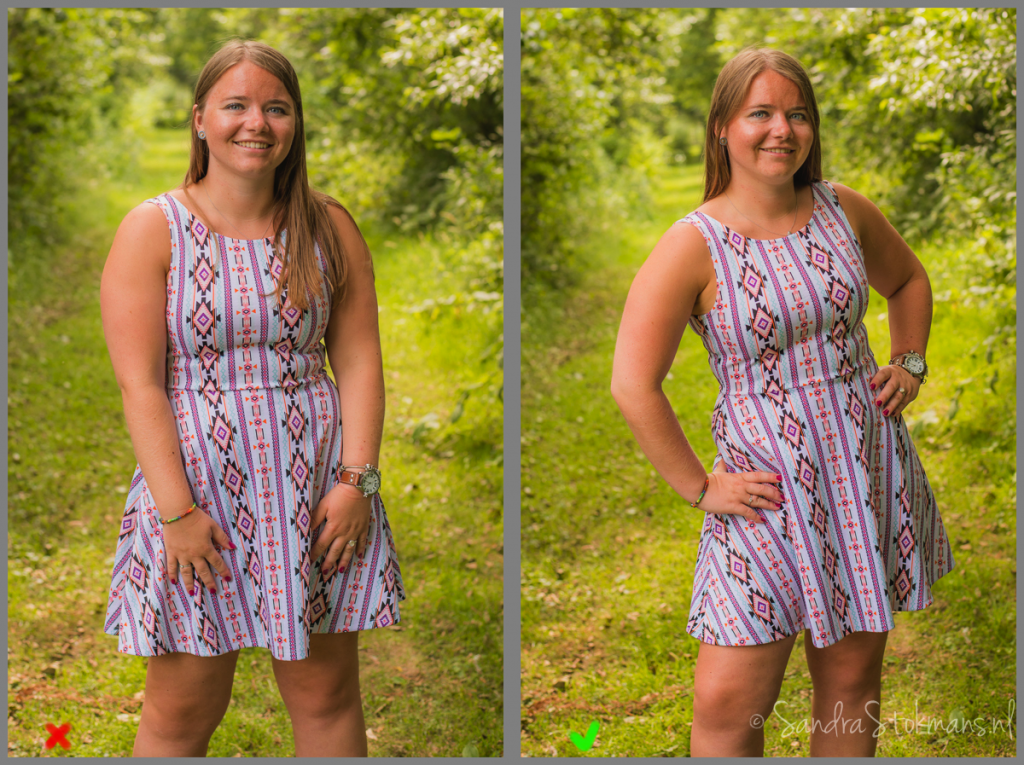 Houd je buik een beetje in, hierdoor verbeterd de houding in plaats de uitgezakte buik. Niet teveel, want dat ziet er onnatuurlijk uit.
Keer het bovengedeelte van je lichaam iets weg (schouders draaien) van de camera. Niet recht voor de camera staan, want dat maakt je breed, wat dan weer niet erg is voor een man 😉 . De schouder die het dichtst bij de camera iets lager houden dan de andere schouder.
Steun met je gewicht op één been (de verste weg van camera), duw je rechterheup naar één kant en de shouders naar andere richting (S-shape). Ontspant ook.
Houd armen iets losjes van je lichaam (til je armen iets op) en laat ruimte bij je taille. Niet tegen je lichaam aanlijmen, dat maakt je breed. Dit laat zien waar je lichaam eindigt. Houdt ook je handen los en flexibel en toon zijkanten van je hand.
Houd altijd minstens een arm (al is maar klein beetje) gebogen. Hetzelfde geldt voor je benen.
Nog een paar extra poseer tips als er een foto van je gemaakt wordt.
Adem rustig en constant.
Voor een ontspannen gezicht / glimlach: zet tong achter je tanden en glimlach.
Om je ogen te ontspannen of als je in de zon kijkt: sluit je ogen en open ze langzaam net voordat de foto genomen wordt. Niet te ver met je hoofd draaien zodat de neus de lijn van het gezicht in tact houdt (en niet breekt, zoals linkerfoto hieronder).
Ontspan, lach en heb plezier!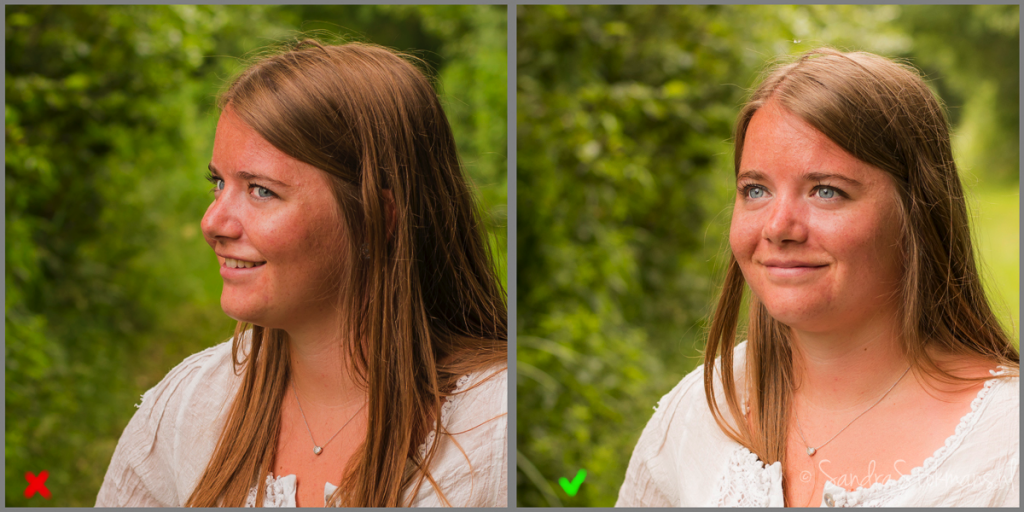 Als je poseert, probeer:
ook een andere pose door af en toe een beetje met je hoofd te draaien, of ietwat scheef te houden of eens opzij te kijken.
een andere lach of look. Probeer ook eens wat anders zoals een zwoele- of 'lege' blik, een brede lach, een schater lach, een klein glimlachje, een frons, een pruillip of een boze blik. Flirten met de camera levert ook vaak leuke resultaten op. De 'lege' blik krijg je door: voorzichtig tussen je lippen door te ademen want dan gaan je lippen automatisch op een natuurlijke wijze iets van elkaar af staan.
eens te lachen met je ogen. Je expressie begint met hetgeen waar je op dat moment aan denkt. Poseren is dan eigenlijk gelijk aan acteren. Als je aan iets leuks of prettigs denkt, dan krijg je vaak een natuurlijkere blik, lach en voorkomt het knijpen van de ogen.
Voor een vrouw, let op het volgende (als dat nog lukt):
Plaats je haar achter één schouder, voor de andere.
Zitten je sieraden goed, is de sluiting per ongeluk zichtbaar?
Zie je je BH bandje? Of zie je je ondergoed onder je kleren (laatste kan ook voor mannen gelden)?
Het totaalplaatje met de poseer tips in gedachte:
Heb je wat gehad aan deze poseer tips? Laat me weten wat je hebt gedaan met deze tips en deel je eigen tips in een reactie!
---
ENGLISH
You want to look good in a picture? These 7 posing tips are guaranteed to help you do just that!
In Holland the summer holidays have begun! You are going to take pictures or pictures will be taken of you… When you see another (holiday) picture of you with a double chin or sagging … you might be a pit disappointed, right? Wouldn't you like to have some useful (posing) tips to know how to mitigate this a little? These posing tips can be used for informal occasions or for posed portraits. You can go a long way with the first two tips!
Back straight and pull your shoulders slightly back and downward. Your chest then automatically moves forward. Not too much because it will look a bot comical. This is a good posture, you will seem longer and slimmer.
Lean slightly forward from the waist to the camera. Not backward, which for many people is a natural reaction when a camera is pointed at them. And / or look slightly upward (tilt chin slightly forward: small trick bring ears slightly forward). This avoids a double chin and makes longer neck. This feels very unnatural but really makes the difference!
Tense your belly muscles a little, it will improve your posture rather than having a sagging belly. Do not over it too much, because that again looks unnatural.
Turn the upper part of your body slightly away (shoulder rotation) from the camera. Not square in front of the camera, because that makes you look broad, which in turn is oké for a guy 😉 . Hold the shoulder closest to the camera slightly lower than the other shoulder.
Support your weight on one leg (the one furthest away from camera), push your right hip to one side and the shouders other direction (S-shape). Relaxes too.
Slightly bend your arm and leave space at your waist. Not tight against your body this will make you look broad too. A small gap between your body and arm shows where your body ends. Also keep your hands loose and flexible and show the sides of your hand.
Always keep at least one arm (though only slightly) bent. The same goes for your legs.
A few more posing tips if your picture is made:
Breathe calmly and constantly.
For a relaxing face / smile put your tongue behind your teeth and smile.
To relax your eyes or if you look at the sun: close your eyes and open them slowly just before taking the picture. Do not overturn your head so the nose doesn't break the natural curves of the face.
Relax, smile and have fun!
If you're posing, try:
some other poses by occasionally turning your head, or a somewhat skewed keep or even a look sideways.
another laugh or look. Why not try something different like erotic/'empty' eyes look, a wide smile, a loud laugh, a little smile, a frown, pout or an angry look. Flirting with the camera also often produces great results. To get the "empty" eyes look you gently breathe in between your lips. Your lips will then automatically and naturally cede slightly.
to laugh with your eyes. Your expression begins with what you are thinking about. Posing is actually equivalent to acting. When you think about something funny or great, you often get a more natural look and smile and it prevents the squinting of the eyes.
For a woman, note the following (if you remember):
Hair is behind one shoulder, in front of the other (hair sitting on the shoulders doesn't really look good).
Are your jewelry properly, the closure is accidentally visible?
See your bra strap? Or do you see your underwear under your clothes (latter may also apply to men)?
Bringing all the posing tips into practice:
Let me know what you were able to do with these tips and share your own in the comments.