Na bijna 8 jaar werken heb ik gisteren het afscheidsgebakje met speech gehad bij mijn werkgever: PolitieNL-Dienst ICT-Sector PPi (waar Programma- en Projectmanagement onder vallen), waar ik als projectmanager heb gewerkt.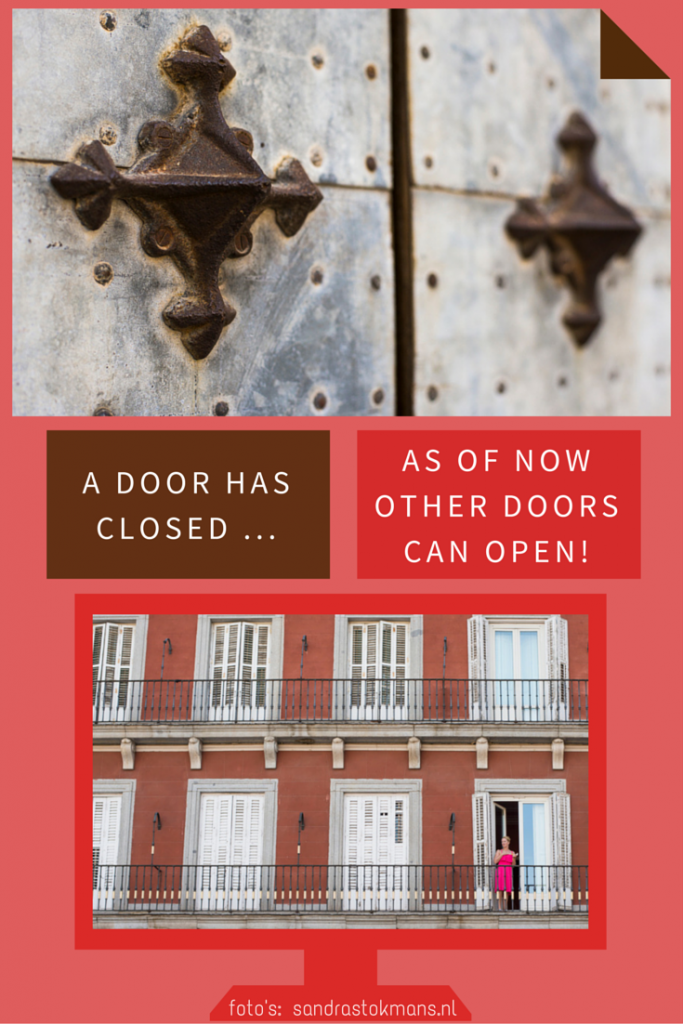 Afscheid
Voor dit 'massale afscheid' had ik nog een momentje met wat bijzonder dierbare collega's. Hans nam het woord. Hierbij een aantal van zijn woorden:
"… Opvallend waren direct al je snelheid van werken en creativiteit. Ik heb wel eens gezegd: graag even iets rustiger want ik kan je niet meer volgen [☺]. Maar ook je betrokkenheid is opvallend. Je verbind je met tomeloze inzet en verantwoordelijkheid aan hetgeen je doet. Het project SAM-Tooling moet met hoofdletters genoemd worden [Software Asset Management – daar ben ik ook trots op]. …

Jouw jaren hier hebben zich getekend door hoogte- en dieptepunten. Successen, maar ook worstelen tegen de organisatie en tegen jezelf. Hoe goed je ook in projectmanagement bent, ik denk dat het beter is om je op andere zaken te storten waar je energie uit put. Met jouw enthousiasme moet dat kunnen lukken."
Wat vond ik het prachtig!
Toen ik naar huis reed voelde het best gek, alsof er een deur dicht is gegaan. Maar vandaag had ik mijn laatste twee uurtjes en toen heb ik de deur voorgoed gesloten.
De volgende stap … fotografie
Ik was al een tijdje bezig met mijn fotografie, en nu heb ik meer tijd om dit bedrijf verder op te bouwen. Ik heb bijzonder veel zin om dit bedrijf verder uit te bouwen, en mensen blij te maken met mijn foto's! Mij te laten inspireren door de mooie mensen, plekken en beelden om mij heen.
Mocht mijn stijl van fotograferen je aanspreken en je zoekt iemand om foto's te maken denk dan aan mij! Heb je ondersteunende, sfeer en/of portretfoto's nodig voor je website, boek, (reis) artikel in tijdschrift? Foto's die aangeven wat je doet en/of wat je verkoop. Voor zakelijke doeleinden, productverkoop, promotie en/of marketing materiaal? Of om een bedrijfsevenement, workshop of bijeenkomst vast te leggen? Voor social media? Of om speciale momenten in je leven vast te leggen? Dan ben je bij mij aan het juiste adres!
Ik denk graag met je mee en verdiep mij in jouw bedrijf of jouw vraag. Wat je ook wilt vastleggen. Voor foto's met betekenis zodat beeld en tekst een geheel worden. Of de foto's een verhaal vertellen. Voor natuurlijke, unieke foto's met verhaal.
Ik ben ook zeer goed in staat om verantwoordelijk te zijn voor het eindresultaat (hier komt mijn jarenlange ervaring als projectmanager goed van pas): een website, of het helpen aan het bouwen van een website. Waarbij mijn creativiteit en mijn foto's in combinatie met de (aanwezige) tekst, helpen om een aantrekkelijke website te maken!
Kijk ook eens op mijn Facebook pagina: https://www.facebook.com/SandraStokmansFotografie. Deze pagina liken en/of een reactie hier achterlaten zou ik heel leuk vinden! En wat zou ik het ook heel leuk vinden als je een berichtje op mijn blog zou schrijven! 🙂
---
ENGLISH
Farewell and the next step
After nearly eight years of working for the IT organization of the Police as a projectmanager, I had my farewell speech and a bit of pie yesterday.
Before the 'massive' farewell, I had a moment with some very dear colleagues. Hans, the eldest, spoke. Here are some of his words:
"… Striking was the instantaneous speed of your work and creativity. I once said: please slow down because I can not follow you any longer [☺] Your involvement is also striking. Everything you do, you do with unbridled enthusiasm and responsibility. The SAM- Tooling project is a project that should be named with capital letters [Software Asset Management – I was very proud how this project was executed]. …

Your years here are marked by highs and lows. Successes but also a struggle against the organization and against yourself. However good you are in project management, I think it is better to jump into other matters where you get energized. With your enthusiasm it should succeed."
I was touched by his words!
When I drove home it felt a bit weird, as if a door had shut. But today I had my last two hours and then I closed close this door for good.
The next step … photography
Just closed the doors behind me of my old employer and I am going to start working for myself! Now other doors can open 🙂.
As of this day I will have more time to further expand this company. I am so looking forward to this new chapter in my life! To be inspired by the beautiful people, places and images around me.
If my style of photography appeals to you and you need someone to take pictures, think of me! Do you need background images that cover what you want to emit through your website? Images showing what you do or what you sell. And/or do you need (portrait) photos for your website, book, (travel) article in a magazine? For business purposes, product sales, promotion and / or marketing material? Or to cover a business event, workshop or meeting? For social media? Or to capture special moments in your life? Then you've come to the right place!
I like to think with you and immerse myself in your business or your question. Whatever you want photographed. Photos with meaning where the image and text become a whole. Or where the pictures tell a story. For natural, unique photographs with narrative.