Dat de uitdrukking "een foto zegt meer dan duizend woorden" vaak klopt, bewijst de foto van het kindje dat aangespoeld is begin september op het Turkse strand wel. Een historische foto. Een foto wat veel losgemaakt.  Een hartverscheurend beeld. Omdat het om een hulpeloos kindje gaat die er onschuldig 'bij ligt'. Zoals zoveel kinderen liggen als ze slapen. De emotie die deze foto heeft losgemaakt heeft een discussie opgestart onder de bevolking, kleine en grote acties worden georganiseerd, die de politiek op hun beurt aandringt om stand te nemen. En vandaag debatteert De Tweede Kamer debatteert over de vluchtelingenproblematiek.
Verschrikkelijk wat er momenteel in dat gebied van de wereld gebeurd. Je wilt je er het liefst er voor afsluiten misschien, maar dat kan niet, de beelden, de woorden zijn te ingrijpend.
Het initiatief werd als volgt aangekondigd:
Liesje laat de Hofvijver overspoelen met bootjes!
Nederland stelt zijn hart open voor vluchtelingen en laat de politiek weten dat ze vluchtelingen niet langer kunnen laten ronddobberen. Dit doen we via social media en op woensdagmiddag 9 september met een vloot van papieren bootjes op de Hofvijver.
Het symbool van het papieren bootje wordt door Liesje Doet als volgt uitgelegd:
Voor de wanhoop die ouders drijft hun kinderen op een gammel bootje de zee op te sturen, bestaan geen woorden. Vandaar dit papieren bootje. Volkomen onschuldig. En volkomen kwetsbaar.
Een paar dagen geleden was er een oproep voor een fotograaf van een vriendin die zich heeft verbonden met een van deze initiatieven, nl. Liesje Doet. Dat wilde ik wel doen. Ik ben er heen gegaan met mijn dochter van 5. Ik heb haar verteld dat wij gevouwen bootjes te water gaan laten. Dat vond ze heel leuk. Tijdens de rit naar Den Haag zat ik te bedenken hoe ik haar zou vertellen waarom wij er eigenlijk naartoe gingen. Het lukte mij niet om de juiste kinder-woorden te vinden. Daar had de organisatie wel, aangezien tijdens dit initiatief er speciaal voor de kinderen een verhaal verteld werd.
Hierbij de foto's die ik gemaakt heb van dit -voor mij- waardevolle initiatief. En laten wij hopen dat de Minister-President (al hoorde ik dat hij die dag in Luxemburg zat) of een van zijn handlangers of politieke-collega's uit het raam hebben gekeken gisteren. Dat ze daar de ouders met kinderen, en de eigen gemaakt, gebouwde en versierde bootjes, gezien hebben. En de paar bootjes die ronddobberden op de Hofvijver, perfect symbool voor deze vluchtelingenproblematiek!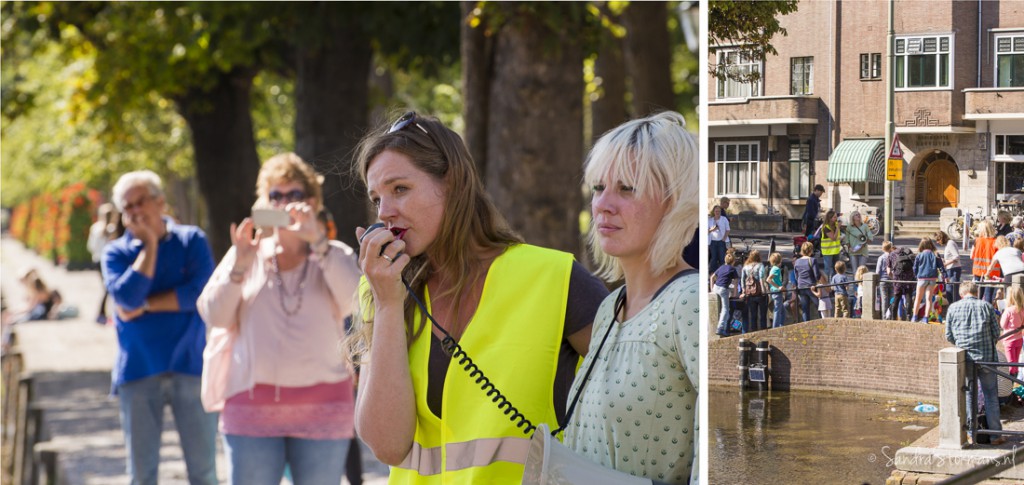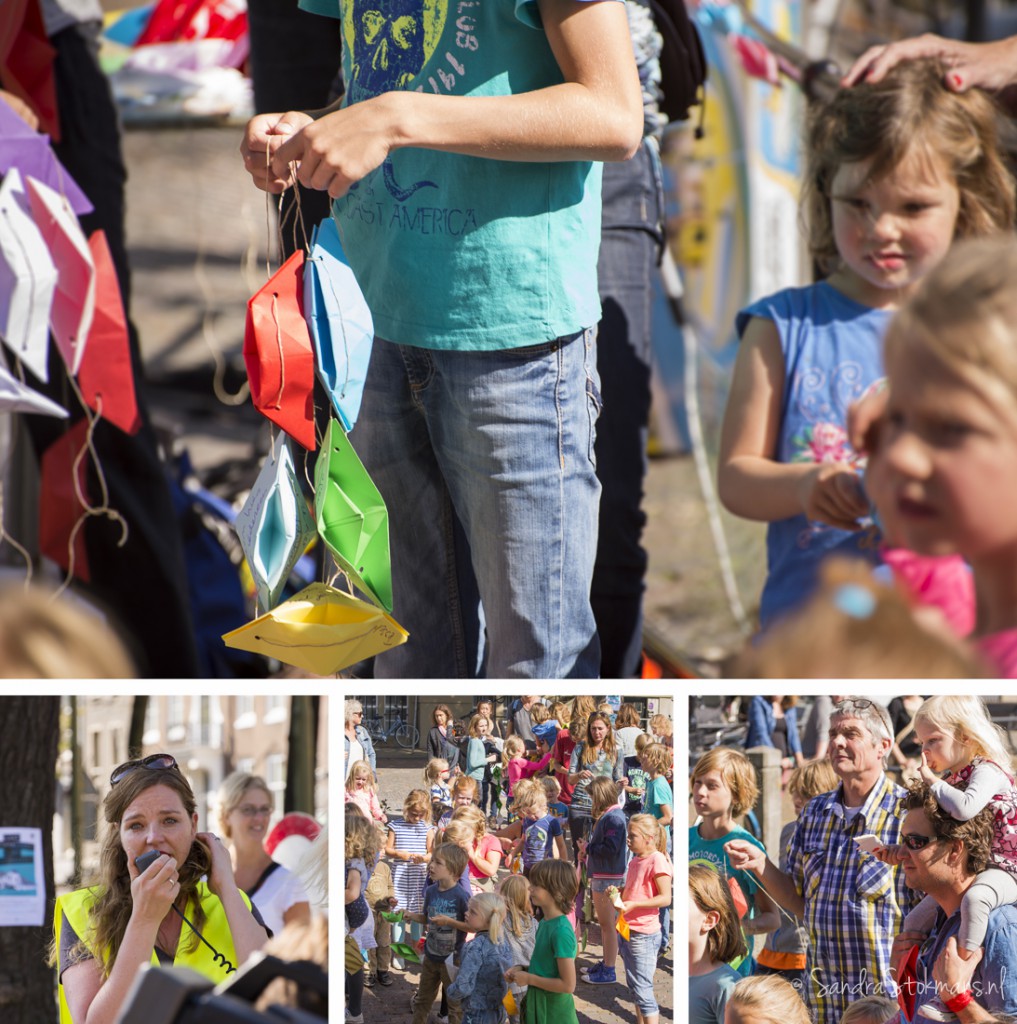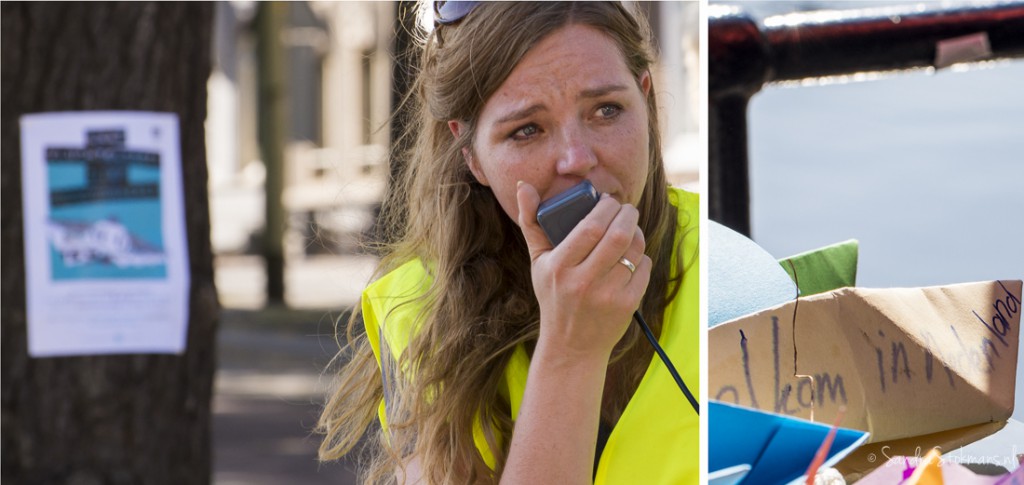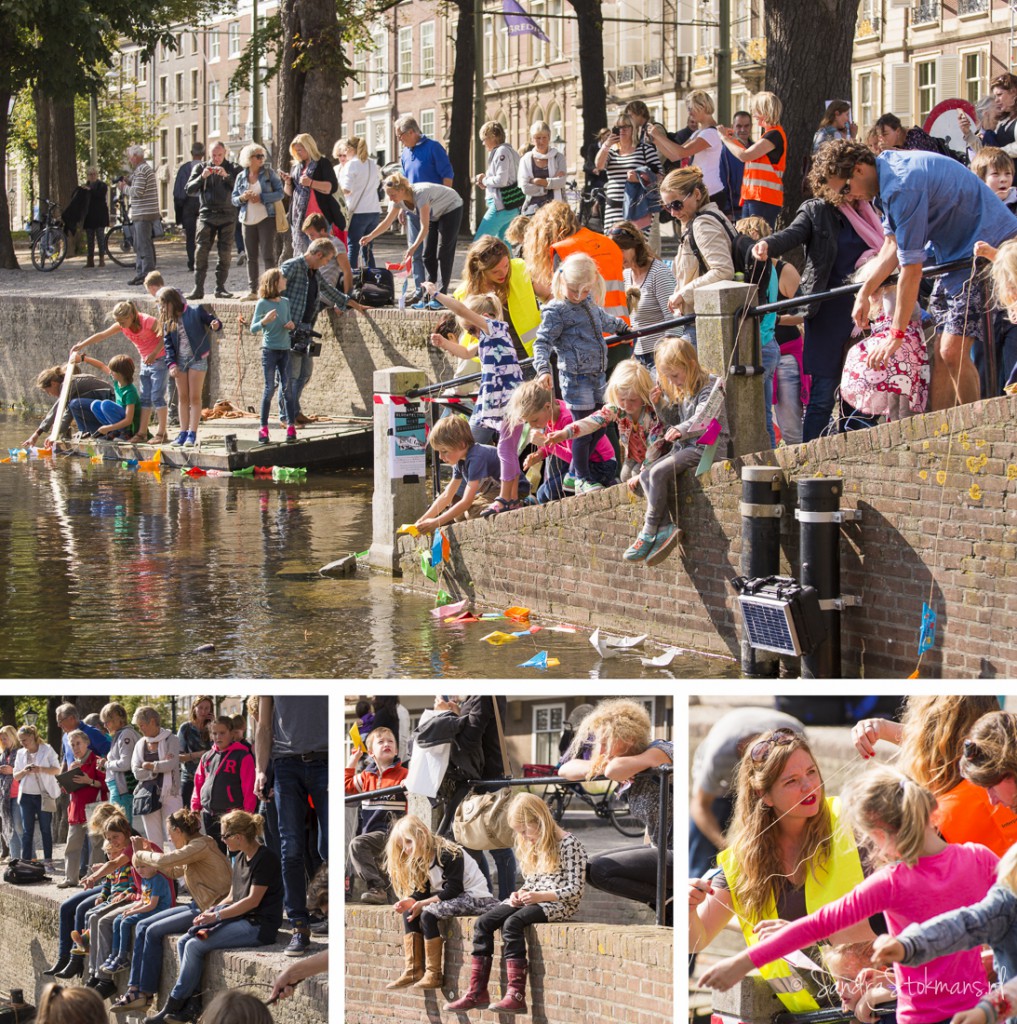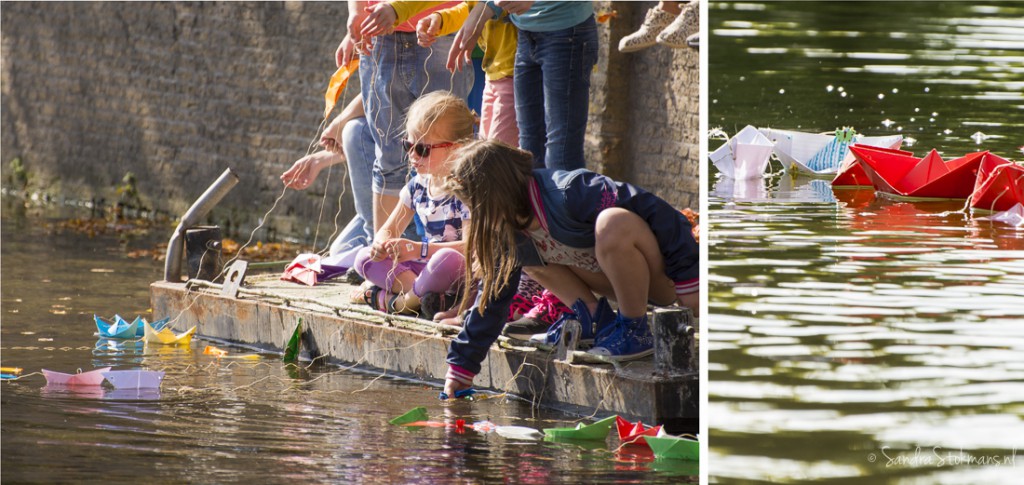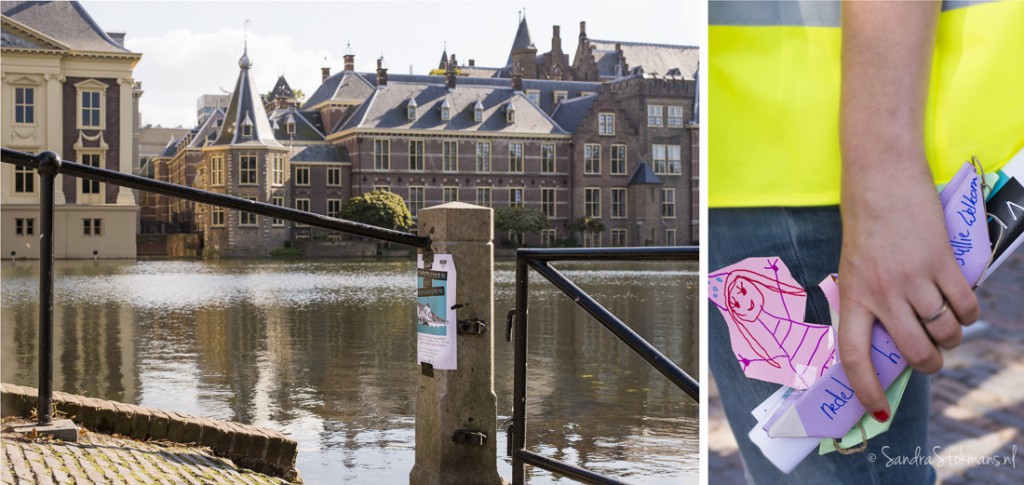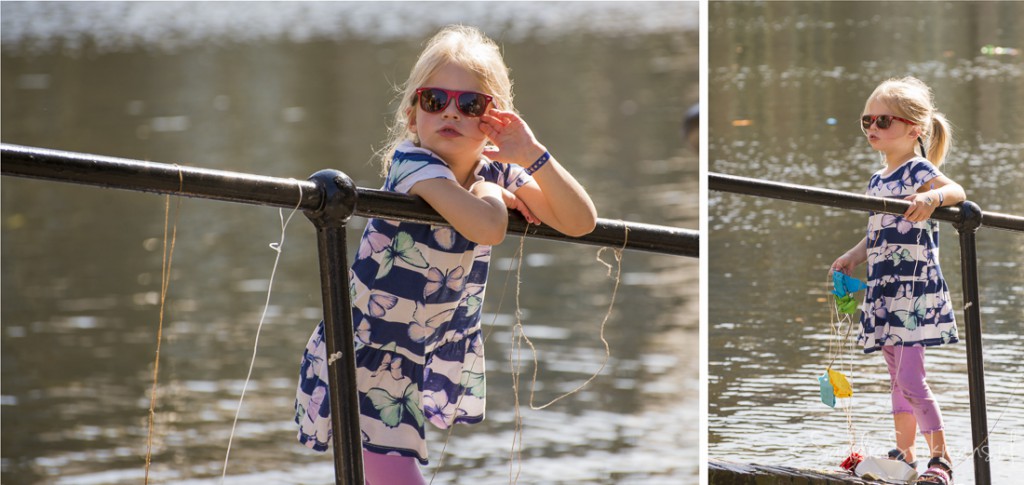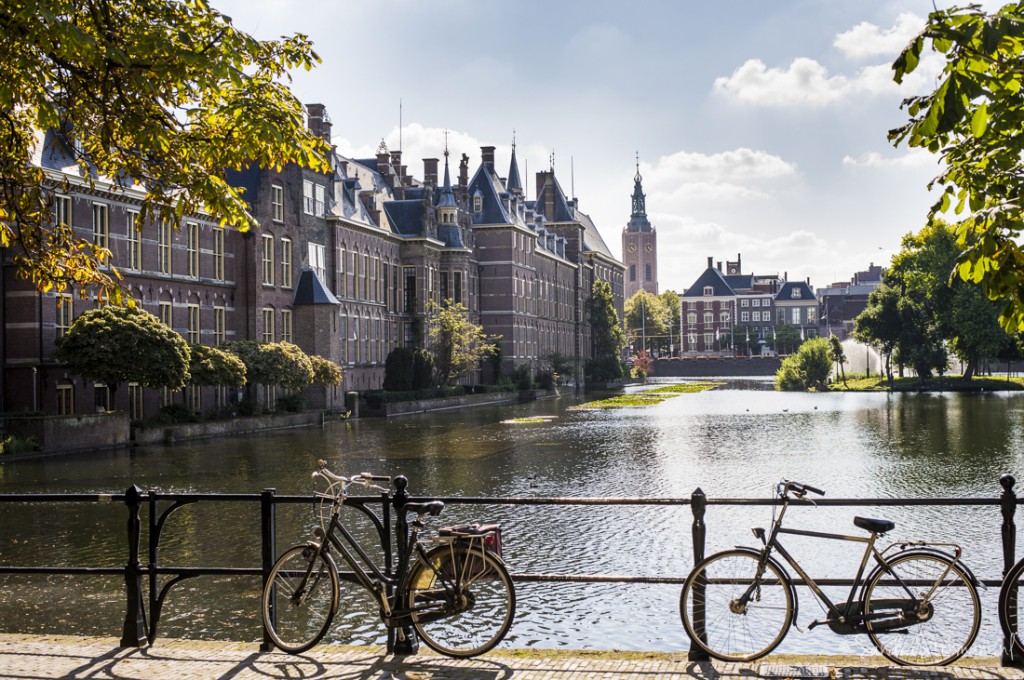 ---
ENGLISH
What does "Boats on the Hofvijver" have to do with the refugee issue
That the phrase "a picture is worth a thousand words" is often found to be true, shows the photo of the toddler that washed up on the Turkish beach early September. An historical photograph. A photo which created quite a stir. A heartbreaking picture. Because it is a helpless child who 'lies there' innocently. Like many children when they are asleep. The emotion that this photo has stirred started a discussion among the population, small and large actions are being organized, urging politicians to take stand. And today, The House of Representatives in Holland is debating the issue of refugees. 
It is horrible what is currently happening in Syria and that area of the world. Maybe you wish you can escape it, but you can't.  The images, the words are too dramatic.
The initiative was announced as follows:
Liesje Doet [a dutch non-profit organization] wil flood the Hofvijver* with boats!
Netherlands opens their heart for the refugees and wants to let the politicians know that they can no longer let the refugees float around. We will do this through social media and on Wednesday September 9, with a fleet of paper boats on the Hofvijver.
* The Binnenhof (English: Inner Court) is a complex of buildings in the city centre of The Hague, next to the Hofvijver lake. The Hofvijver (English: Court Pond) is a pond in the centre of The Hague.
The symbol of the paper boat is explained by Liesje Doet as follows:
There are no words for the despair that drive parents to put their children on a rickety boat and send them off to sea. Hence this paper boat. Completely innocent. And completely vulnerable.
A few days ago there was a friend of mine who posted on Facebook asking for a photographer to take pictures on the 9th. I wanted to do something, so I went with my daughter 5. I told her that we are going to put folded boats into water. She got excited. During the trip to The Hague I was thinking how I would tell her why we were actually going there. I did not manage to find the right 'children's' words to me. The organization did and to start of the event they told a story especially for the children.
Here are the pictures that I took yesterday of the -for me- valuable initiative. And let's hope that the Prime Minister (though I heard he was in Luxembourg) or one of his cronies or political colleagues looked out the window yesterday. That they saw the parents with their children, and their homemade, constructed and decorated boats. And the few boats that were bobbing around on the Hofvijver, perfect symbol for this problem!