Unit4 organiseerde op 17 juni 2016 een kindersportdag in Rotterdam en Utrecht. Ik mocht een foto reportage maken van alle activiteiten in Rotterdam. Een vrolijke sportieve dag die eindigde met wel een hele speciale verassing!
Unit4 is een wereldwijde leverancier van ERP- en bedrijfssoftware waarmee organisaties veranderingen eenvoudig, snel en effectief kunnen doorvoeren.
Als maatschappelijk betrokken organisatie wil Unit4 graag een waardevolle bijdrage leveren aan de gemeenschappen om ons heen. Daarom organiseerden ze dit jaar een sportdag voor basisschoolleerlingen uit achterstandswijken in Utrecht en Rotterdam. Sporten vergroot hun kans op een gezonde toekomst. Motto is "door samen met de kinderen in beweging te komen, kunnen we laten zien dat sporten gezond én leuk is! ".
De kinderen met wie ze gingen sporten worden vanuit hun omgeving veelal weinig gestimuleerd, dus met de sportdag hopen ze hun sportieve grenzen te verleggen. De deelnemende Unit4-collega's hebben per tweetal een groep kinderen begeleidt. De bedoeling is om met de groep diverse sportonderdelen af te gaan, waarbij de medewerkers de kinderen stimuleert, enthousiasmeert en motiveert. Fair play, meedoen en lol maken is belangrijker dan winnen!
Aan het einde is een film – foto reportage – impressie!

& het stuk is vertaald in engels
Foto reportage
Een beetje timide kwamen de kinderen aan, maar snel gingen daar de Unit4 medewerkers naar ze toe en werd het een gekrioel van kinderen en medewerkers die elkaar opzochten (want waar moet je naartoe?) en zich aan elkaar voorstelden. Toen de kinderen hun begeleiders voor de dag hadden gevonden, gingen ze zich omkleden. Ze kregen allemaal een Unit4 shirt.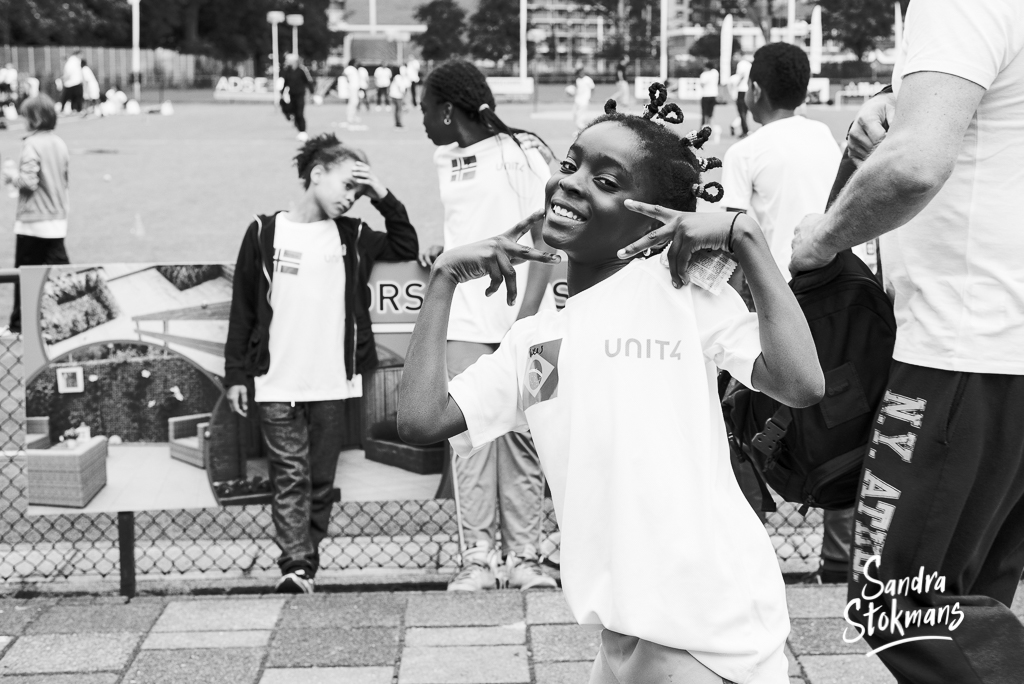 Overal waar ik keek waren blije vrolijke kinderen (op een paar wat stillere, en wat timidere kinderen of een paar puberende tieners na 😉 ) en medewerkers van Unit4. Ik hoorde een van de medewerkers zeggen hoe leuk het was om je collega op een hele andere manier bezig te zien. Is hij misschien rustig en stil op zijn werk, op deze dag zagen ze hem blij, zorgzaam en attent zijn voor zijn groepje kinderen. Hoe leuk is dat! Je leert elkaar ook weer anders en beter kennen als je dit soort activiteiten hebt die vanuit je werk worden georganiseerd.
En toen begon het te regenen. Het sporten ging gewoon door. De regen beïnvloedde over het algemeen niet de sportieve blije stemming die er heerste. Er werd door Rotterdam Cares, die dit evenement verzorgd heeft voor Unit4, gezorgd voor regenponcho's voor begeleiders en leerlingen. Met alles was rekening gehouden.
Na het uitdelen van de medailles en het huldigen van het team wat het beste fair play heeft uitgedragen, werd er een groepsfoto gemaakt. Hoe vrolijk en kleurrijk is dit, vind je niet?! Volgens mij hebben beide partijen enorm genoten van deze dag. Voor mij was het een waar feestje om dit bedrijf met hun "Kids" te fotograferen. En ik hoop dat er veel meer van dit soort leuke interessante opdrachten voorbij gaan komen!
En toen gebeurde er dit … de kers op de taart
Nadat groepsfoto gemaakt was, was het tijd voor de kinderen om weer terug te gaan naar hun school. Maar ze bleven nog even kijken naar het laatste onderdeel van de dag. De begeleiders zouden teams maken en een estafette tegen elkaar houden. Na de estafette gebeurde er iets moois … de kers op de taart… nee ik ga het toch niet verklappen … Waar rent dit meisje naar toe?! Kijk maar naar de video impressie 🙂 !
Later zei een medewerker "daar hebben wij het voor gedaan!"
Film – foto reportage – impressie
Nederland Cares
Unit4 werkte samen met Nederland Cares, een organisatie die de maatschappelijke betrokkenheid van werkend Nederland wil vergroten. Dit doen zij door flexibel vrijwilligerswerk aan te bieden waarbij de ontmoeting met mensen uit kwetsbare groepen centraal staat. Zij hebben de contacten met de scholen, sportlocaties en -aanbieders gelegd om deze dag mogelijk te maken. Ze hebben deze dag voor zowel de kinderen als de medewerkers van Unit 4 onvergetelijk gemaakt.
---
ENGLSH
Photo documentary UNIT4 Cares Kids Sports Day in Rotterdam
UNIT4 organized on the 17th of June 2016 a Kids Sports Day in Rotterdam and Utrecht. I made a photo documentary of all the activities in Rotterdam. A joyful sports day which ended with a very special surprise!
Unit4 is a global provider of ERP and enterprise software that enables simple, fast and effective organizations make changes.
As a socially involved organization Unit4 wants to contribute to the communities that they reside in. That's why they organized a sports day this year for primary school students from disadvantaged neighborhoods in Utrecht and Rotterdam. Participating in sports increases their chances of a healthy future. Unit4's motto is "By working together to get the kids moving, we can show them that sports are both healthy and fun!".
These kids often aren't given the incentive to branch out to other communities, and with this sports day they hope to lay a foundation that will get them to push their boundaries in the area of sport. The participants have UNIT4 colleagues accompanying a group of children per twosome. These teams will each lead a group of children through different activities. The idea is to lead the group through various sport activities, where the staff will enthuse, encourage, and motivate the kids. Fair play, participating and having fun is more important than winning!
Photo documentary
The children arrived a bit little timid, but instantly the staff UNIT4 went towards them. There was a swarm of children and staff who sought each other out (because where do you go?) and introduced themselves to each other. When the children had found their supervisors for the day, they went to change clothes. They all got an Unit4 t-shirt.
Everywhere I looked were happy joyful kids (although there were a few quieter, bit more timid children and a couple of pubescent teenagers 😉 ) and employees of Unit4. I heard one of the staff saying how nice it was to see your colleagues in a whole different environment. Perhaps he is quiet and calm at work, on this day his colleagues saw him happy, caring and attentive to his group of children. How great is that! It's kind of like teambuilding. When you have these kind of activities organized by your work, you see each other in a different light and learn new things about each other.
And then it started to rain and everybody continued to do the games and sports. The rain didn't affect the joyful sporty mood at all. The organization which organized this day, Rotterdam Cares, provided rain ponchos for the supervisors and children. Every scenario had been taken into account.
After handing out the medals and the honor of the team that has propagated the best fair play, there was a group picture. See the above pictures. Isn't the group picture cheerful and colorful?! I think everybody enjoyed this day immensely. For me it was a real treat to photograph this software business with their "Kids". And I hope there will be many more fun interesting assignments like this one for me!
And then it happened … the icing on the cake
After the group picture was made, it was time for the children to return to their school. But they stayed and watched the last activity of the day. The supervisors made teams and held a relay race against each other. After the relay ended, something amazing happened … the icing on the cake … no I'm not going to tell you… Where is this girl running towards?! Just look at the video clip :)!
Later an employee said "that's why we did this!"