Documentaire familie fotografie is het fotograferen van de kleine, echte dagelijkse momenten, de tussen-in-momenten. Momenten die het meest vormend zijn.
Precies een maand geleden heb ik iets meer dan een halve dag meegedraaid met de familie Maljaars in Sommelsdijk. Deze Day in the Life sessie begon met de jongste die net wakker werd uit haar middagdutje. Dit gezin met 3 stoere jongens (14, 11 en 9) en twee bewegelijke meiden (12 en 2) was lekker druk en wat mij ook opviel heel lief voor elkaar. Trouwens de hele bende was zeer bewegelijk, tijdens de strandwandeling was er wel een die niet rechtop stond.
Met Marjolijn, de moeder van dit gezin, die zelf fotograaf is, heb ik een Day in the Life dienstenruil gedaan!  Een tijdje geleden was zij namelijk ook bij mij. Hoe gaaf is het dat zij nu zelf op de foto's staat! Zelf is ze er superblij mee 🙂 .
Een Day in the Life is een vorm van familie fotografie alleen dan niet geposeerd. Documentaire fotografie van een gewone dag uit je leven.
Documentaire familie fotografie
De kleine meest échte dagelijkse momenten. De wonderlijkste momenten. Ze gebeuren er tussen in, de tussen-in-momenten. De meest authentieke van je gezin. De momenten waar je kinderen het meest van leren, die ze het meest bijblijven. De momenten die hen vormt. Die hen de basis geeft waarop ze de rest van hun leven op vertrouwen. Deze momenten zijn de beste momenten. En wat zijn die momenten eigenlijk toch bijzonder!
Dat is de reden waarom het documenteren van het alledaagse door middel van foto's zo bijzonder is om te doen. En dat is de reden dat dat Marjolijn blij maakt en waarom ze, net als ik, deze vorm van fotografie, de documentaire familie fotografie, doet.
Het leven speelt zich af in de tussen-in-momenten.
Laat deze niet aan je voorbij gaan!
Marjolijn heeft foto's van deze momenten, die maakt ze, net zoals ik … alleen ze staat er zelf niet op. De kinderen zullen herinneringen hebben van haar met een camera voor haar neus, net zoals de mijne. Er zijn natuurlijk ook genoeg momenten waarop wij die camera niet hebben, alleen … dan maakt niemand die foto.
En het verhaal van mijn gezin, het gezin van Marjolijn, is ook het verhaal met ons erbij. Het is belangrijk dat wij ook in de foto staan met onze kinderen, met onze liefdes. Dat is ons verhaal, dat bijzondere verhaal, wat zeer de moeite waard is om verteld te worden!
Een dag uit het leven van Marjolijn, Eelco, Luuk, Sterre, Storm, Bink en Puck
De reactie van Marjolijn na het zien van het filmpje:
Dat is leuk om de ochtend mee te beginnen
! Leuk filmpje geworden, mijn eigen DITL yeah!! Dank je wel, Sandra, voor de prachtige foto's. Eindelijk foto's waar ik ook op sta, want hoe fijn is het om deze foto's als herinnering te hebben 
De middag, Puck wordt wakker en de strandwandeling
De avond, pannenkoeken bakken en ze opeten
Het avondritueel, badderen, tandenpoetsen, voorlezen en gaan slapen
Waarom een professionele fotograaf, ik heb toch zelf een smartphone?
Kijk en oordeel zelf. Terwijl ik foto's maakte van het badritueel had ik aan Sterre gevraagd of ze achter mij wilde staan om een aantal keer een foto te maken van momenten waarop ik een foto maakte. En wat is nou het verschil? Belichting, scherpte, kleuren, standpunt, bewerking?!
Voor Iphone foto / Na professionele foto
Sleep van rechts naar links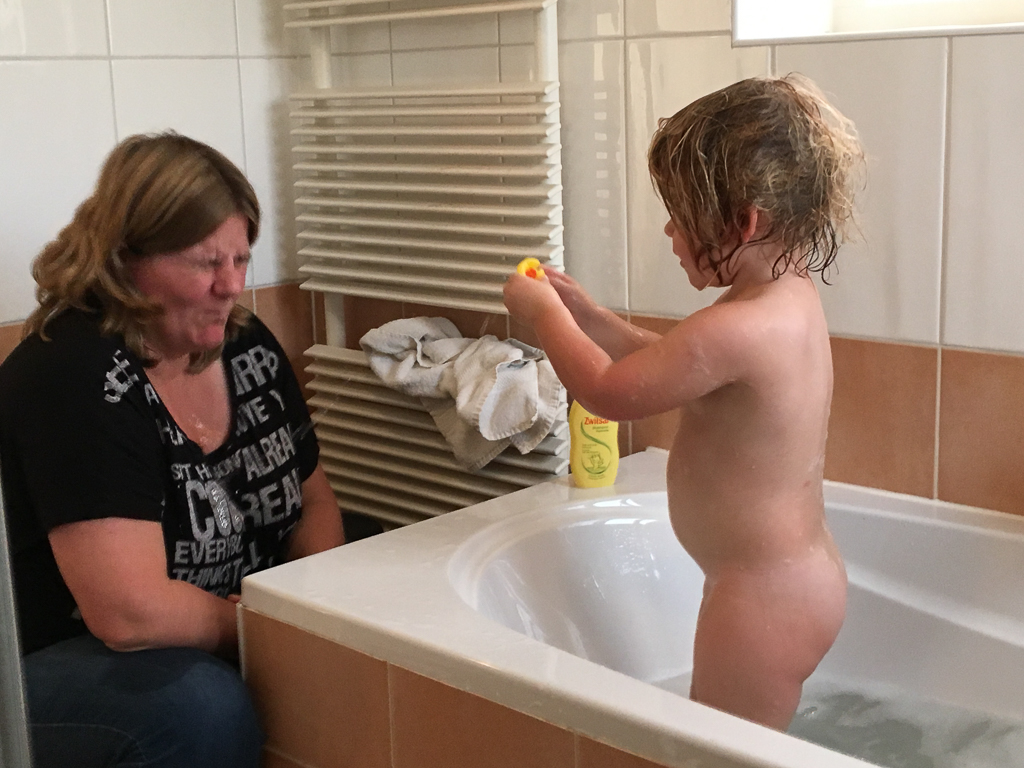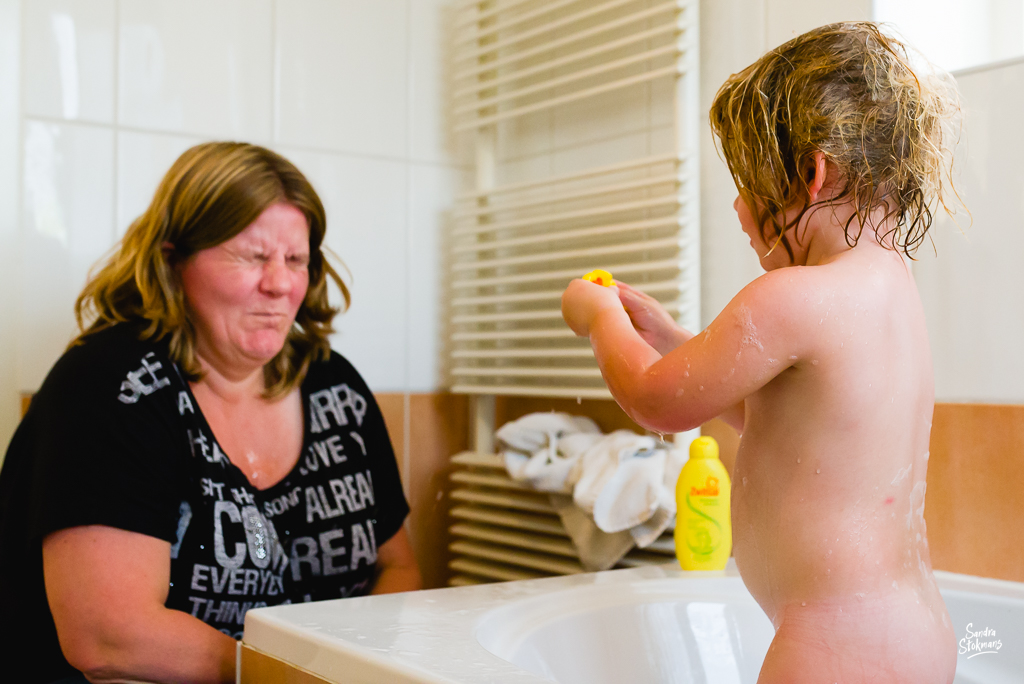 ENGLISH
Family documentary photography in Sommelsdijk
Family documentary photography is photographing the the little everyday moments, the in-between moments. Moments that are the most real, the most formative ones a child has.
Exactly one month ago I did a half a day in the life of the family Maljaars in Sommelsdijk. This Day in the Life session began with the youngest who just woke up from her nap. This family with three cool boys (14 and 11) and two lovely girls (13 and 2) was nice and busy and what I remember is how sweet they were with each other. Actually the whole gang couldn't really stay upright 😉 … during our walk on the beach.
With Marjolijn, the mother of this family, who is also a photographer, I had done a Day in the Life swap! A couple of months ago she was at my house. How cool is it that she is no IN the photos as well! She is so happy with the pictures :)!
A Day in the Life is a form of family photography where there is no posing. It is documenting the extraordinary of an ordinary day in your life.
Documentary photography family
The everyday moments. Those wonderful small moments. They happen in between, the in-between moments. The most authentic moments of your family. The moments where your children learn from the most. The ones they most remember. The moments that form them. That give them the foundation on trust for the rest of their lives. These moments are the best moments. They are something special!
That is why documenting the everyday through images is so very special. And that is the reason that it makes Marjolijn happy and why she, like me, does this kind of photography, family documentary photography.
Life takes place in the in-between moments.
Don't let them pass you by!
Marjolijn has pictures of those moments, she takes them, as do I … but she's not in the images. The children will have memories of her with a camera in front of her face, just like my kids will. There are plenty of moments when we do not have that camera with us, it's just that … no one takes that picture.
And the story of my family, of Marjolijn's family, is the story with us in it. It is important that we are in the picture with our children, our loved ones. That's our story, a particular story, which very much deserves to be told!
It is so worth it!
The reaction of Marjolijn after seeing the video:
What a nice way to start the morning ????! Great video, my own DITL yeah!! Thank you, Sandra, for the beautiful pictures. Finally pictures where I'm in the frame. So great to have these photos as a reminder.
The afternoon
After seeing the video you probably have a sense of how the day, the Day in the Life of Marjolijn, Eelco, Luuk, Star, Storm, Bink and Puck went. I arrived after a drive of less than an hour and a half hour around two o'clock in Sommelsdijk. I found their home pretty quickly and was welcomed by Eelco and Marjolijn.
Eelco is Marjolijn's second husband and together they have little Puck, who was still asleep. The middle two boys and Sterre were jumping on the trampoline. They introduced themselves. Luuk de eldest was not home yet. When he came home he looked at me with this look. He needed some time to get used to the idea that I was there and that someone other than his mother was walking around with a camera. At the beginning whenever I wanted to take a picture of a moment which included him, he would walk away. Typical teen behavior :). This completely disappeared during the walk on the beach.
First Puck was awakened. Her brother Storm showed her her favorite dress. That was so sweet to witness. She put the dress, but when it became clear that something was wrong with the dress she wanted to put on something else.
After Puck was awake and her two pigtails were put nicely in place, we got into the car to go to the beach. When we arrived there was a really very nice plaything. I noticed during the walk that at any given moment one of the children was not standing/walking upright. They also showed a lot of their tricks to Marjolijn and Luuk.
The evening
You have to make a lot of pancakes for a family of seven! And of course I ate a couple too :). In the kitchen, because during a Day in the Life session it must look like you weren't there. So there should be no sign on the table that there was an extra plate.
Storm and Eelco were the pancakes bakers that evening. I found it quite amazing that Storm continued baking until the last of the batter. You often see that kids don't have much a long concentration span, get bored and do something else. But not Storm, and he really genuinely liked doing it! And the amount of time it took to cook the pancakes, in half of that time it took us to eat them all!
Bedtime rituals
The family Maljaars also has an evening ritual. Little miss Puck went in the bath with big brother Bink. They had so much fun together, especially when squirting of the rubber ducks was directed at their mother. After the bath came the brushing of the teeth, reading (Bink tagged along with that ons) and then Puck was covered in her blankets by Dad and Mom. This went so fast that I only manage to take two pictures of Dad and one photo of Mommy with Puck. Thankfully the pictures were sharp.
Marjolijn had indicated that she really wanted pictures of this whole ritual, so I focused on that. Big brother Luuk had gone to a party, and Storm and Sterre were reading on the couch, watching TV or on the phone. This family has a rule that no phones will be used on a Sunday until after five o'clock and they all did that!
Well, enjoy the video and the photos of this Day in the Life session (see above)!