Vlak voor de vakantie heb ik een hele dag meegedraaid in het leven van de familie Hoogendoorn in Everdingen. Deze "Day in the Life Everdingen" begon met de kinderen die nog lekker in pyjama rondliepen zoals dat altijd wel het geval is op een zondag. En zondag is een echte rustdag voor dit gezin met twee stoere sportieve jongens (13 en 11) en een super gezellige actief meisje (6).
Day in the Life Everdingen, Day in the Life, pure momenten
Wat vliegen de dagen, de momenten, voorbij! Je hebt wel 1000-en foto's op je telefoon of computer. Je kijkt er als een berg tegenop om daar wat mee te gaan doen. Er zit niet echt een verhaal in. Het is vaak niet goed belicht, de kwaliteit is daarom niet echt mooi en de kadering kan veel beter. Daarbij sta jij er bijna nooit op.
Met name dat laatste had Daphne. Ze maakt wel foto's met een veel beter toestel dan een smartphone, maar toch het meerendeel van de familie momenten wordt met de smartphone vastgelegd, en die zitten daar nog op. Zeker nu ook met die opgroeiende jongens van haar. Ze maakt ook geregeld albums, maar dan eigenlijk alleen van de vakanties en niet van hun alledaagse bezigheden. En zij staat vaak niet op de foto bij deze familie momenten. Herkenbaar?
Hoe gaaf is het om dan deze bijzondere momenten professioneel te laten fotograferen! Kijk maar eens naar voorbeeld hieronder.
Voor Iphone foto / Na professionele foto
Sleep van rechts naar links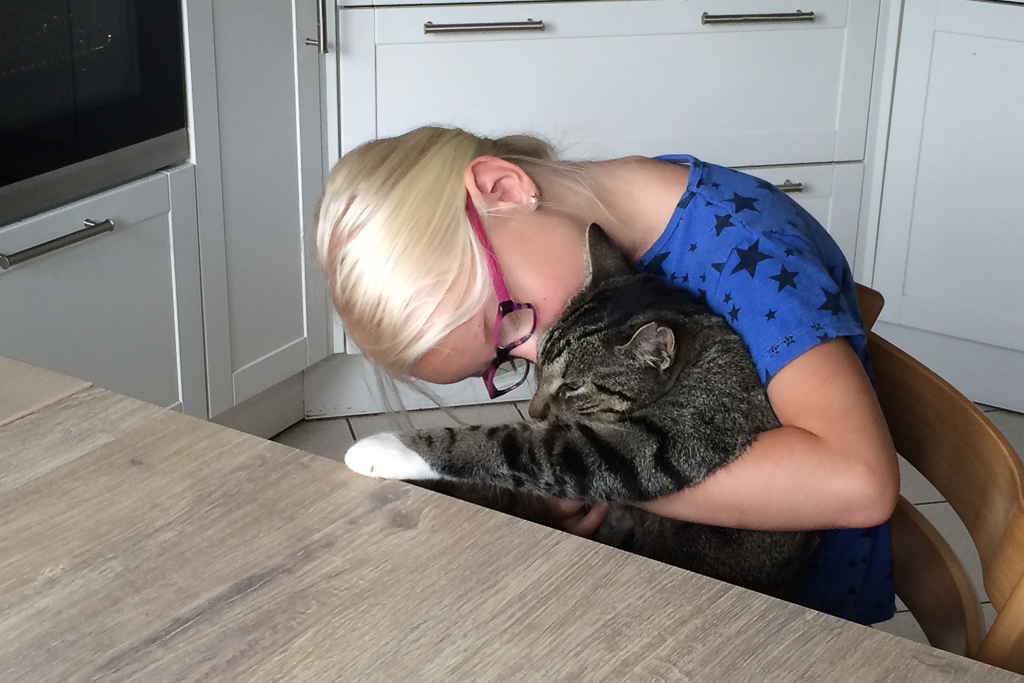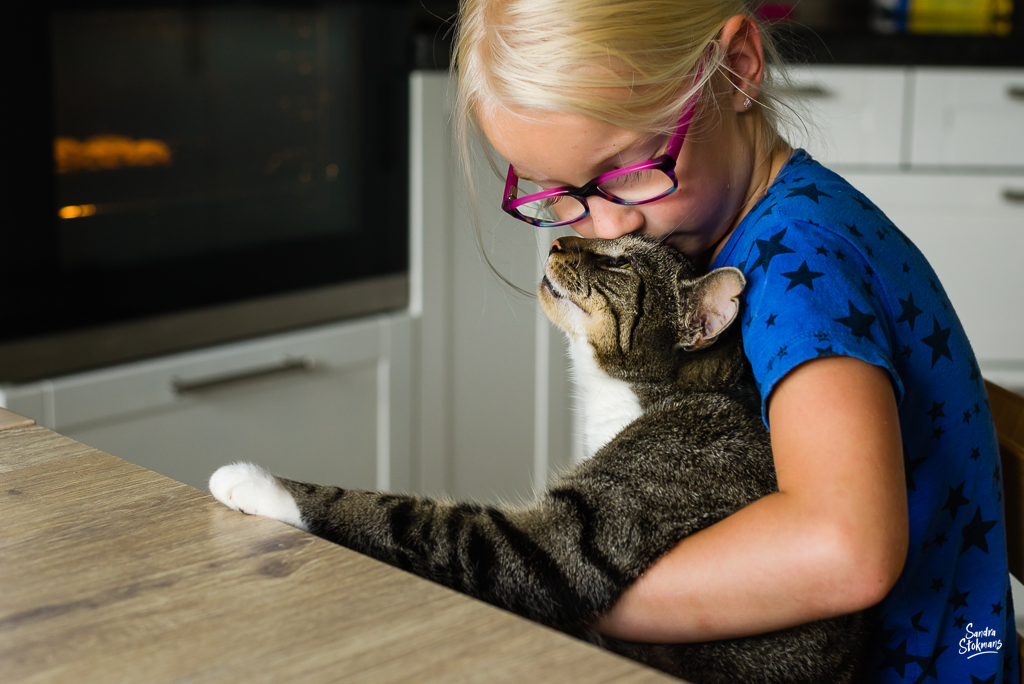 Een Day in the Life is een vorm van familie fotografie alleen dan niet geposeerd. Geen lifestyle shoot. Het draait om pure documentaire fotografie van een gewone dag uit jullie leven. Precies dat wat in de herinnering zo mooi blijft hangen en wat de (klein)kinderen later herinneren. En voor je weet zijn je kinderen het huis uit.
Een mooie tastbare herinnering.
Een (zon)dag uit het leven van Bart Jaap, Daphne, Joey, Mark en Sanne
En wat een gave reactie appte Daphne mij nadat ze de video van hun Day in the Life gezien had!
Wow, Sandra, ik zit zooooo ontzettend te genieten. Wat een prachtige weergave van een fijne dag uit ons leven heb je gemaakt!! Van ons gezin. Het ontroerd mij diep.
Ongeposeerde familie fotografie
Na het zien van de video heb je hopelijk een gevoel bij hoe het die dag, Day in the Life van Bart Jaap, Daphne, Joey, Mark en Sanne verliep. Nu zal ik nog wat vertellen en een paar foto's delen. Iets voor tienen kwam ik daar aangereden. Op de zondagen gaan ze vaak pas rond die tijd ontbijten. Ik werd allerhartelijkst ontvangen door de familie Hoogendoorn. Na een kopje thee te hebben gedronken met de ouders, Daphne en Bart Jaap, ging ik op zoek naar de kinderen. Sanne was lekker in haar pyjamaatje bezig aan de grote tafel, en de jongens waren aan het chillen in de kamer van de oudste.

Ze hadden nog niet ontbeten dus dat was het eerste familie moment waarmee ik aan de slag ging. Toen ik deze foto nam wist ik het nog niet, maar Sanne zou de hele dag momenten hebben waar ze aan het dansen en zingen zou zijn. Wat ik mooi aan dit moment vind is dat iedereen zo'n beetje in zijn eigen gedachte lijkt te verkeren, Mark met een binnenpretje zit en Sanne helemaal los van alles haar dingetje doet.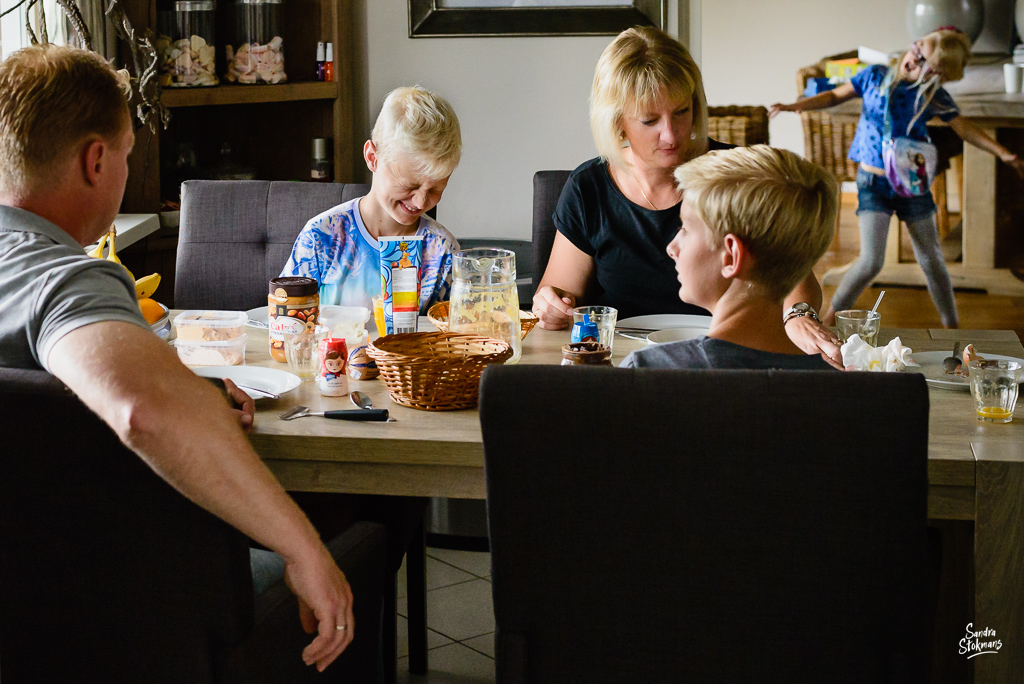 Haren kammen of je haar doen is ook zo'n moment dat je altijd doet. En soms zie je niet of merk je niet wat een gezichten je kinderen trekken.

Daarna werd er door de jongens lekker gevoetbald. En zoals het bij deze grote jongens gaat, de schoppen zijn niet mals (zie ook het filmpje). Maar af en toe ging er een bal het weiland in.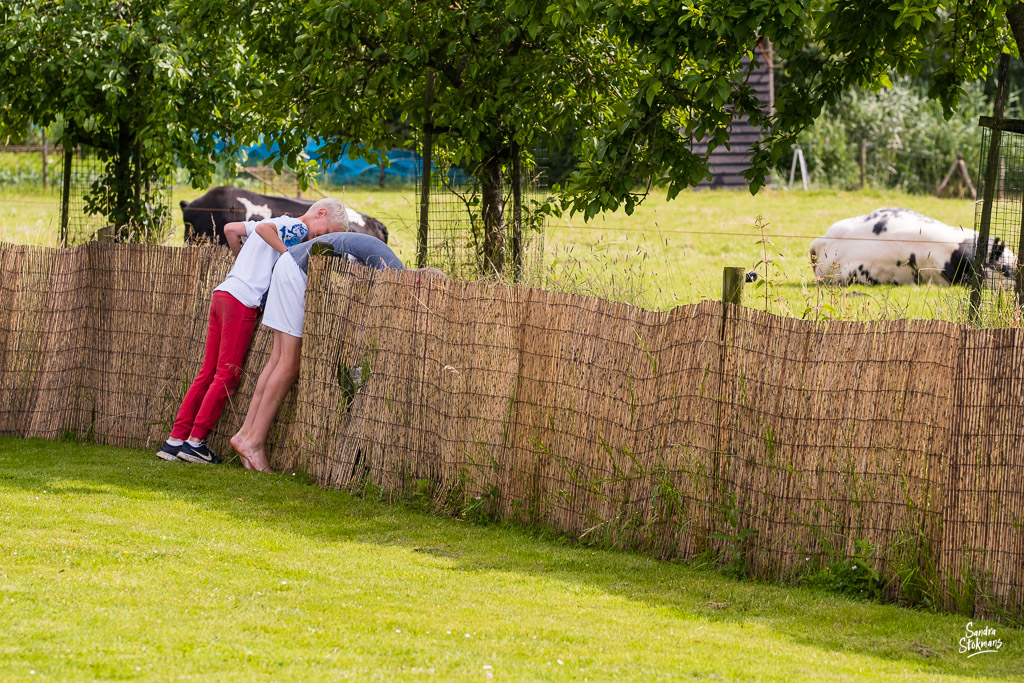 Sanne begon dus deze dag al dansend en zingend, oefenend voor het moment waarop haar oom, die door haar vader en de oudste Joey werd opgehaald, terugkwam van vakantie.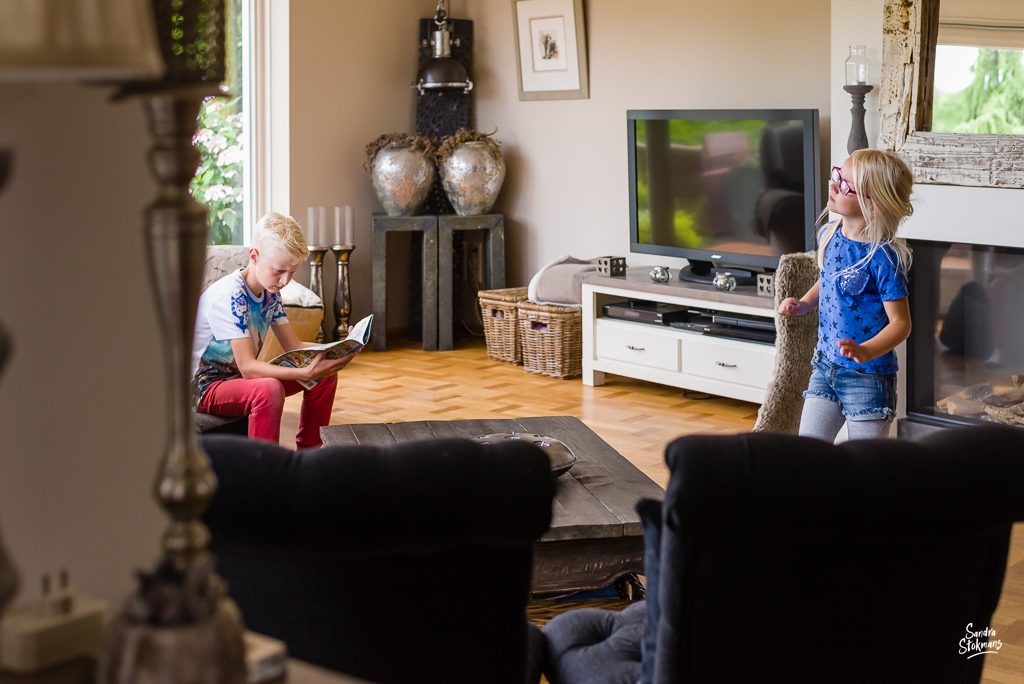 De middag, uitrusten en voetballen
Voordat wij voor de lunch weggingen, was Joey nog even aan het oefenen op zijn gitaar. Daarna zijn wij lekker pannenkoeken gaan eten en gingen wij wandelen. Uiteraard was Tess, hun hond mee. En in de auto met twee broers gaat niet altijd zonder frustratie 😉 .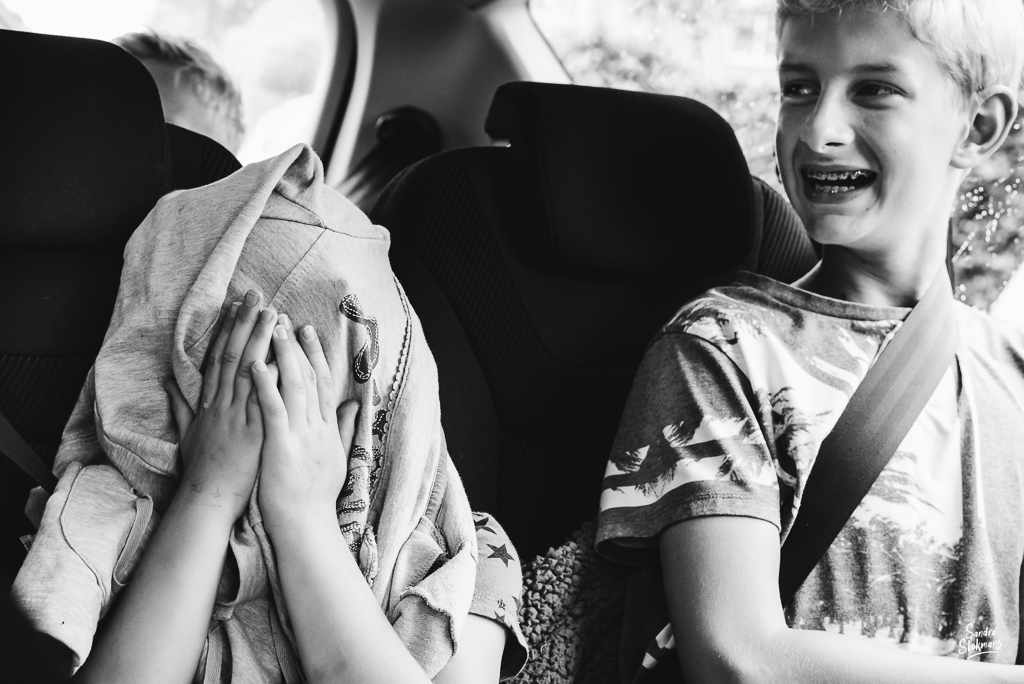 Terwijl de mannen aan het uitrusten waren op de bank, ging Sanne met Daphne een smoothie maken. Later kwam Mark er ook eentje maken. En ze waren heerlijk!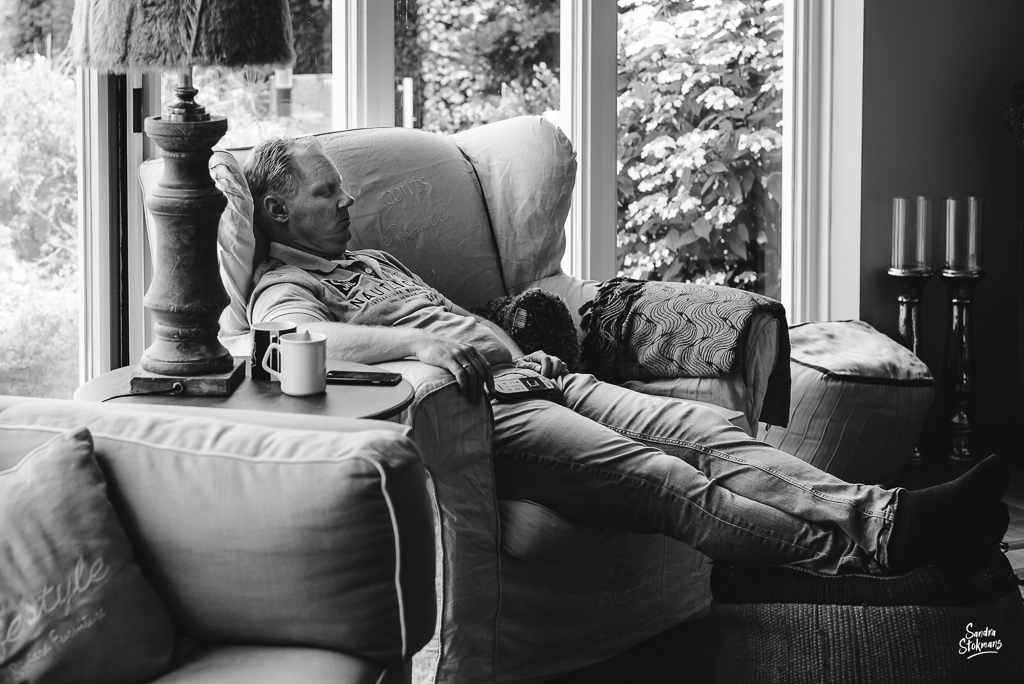 Na de smoothies en het uitrust moment besloten ze om te gaan voetballen. Er werd een vriend van de familie opgehaald, die altijd meegaat voetballen met de jongens. Er was helemaal niemand te bekennen op het voetbalveld dus de jongens, en Daphne en Sanne ook, konden heerlijk een potje voetballen. En zoals het in Nederland vaak het geval is werd dit uitje afgesloten met een fikse regenbui.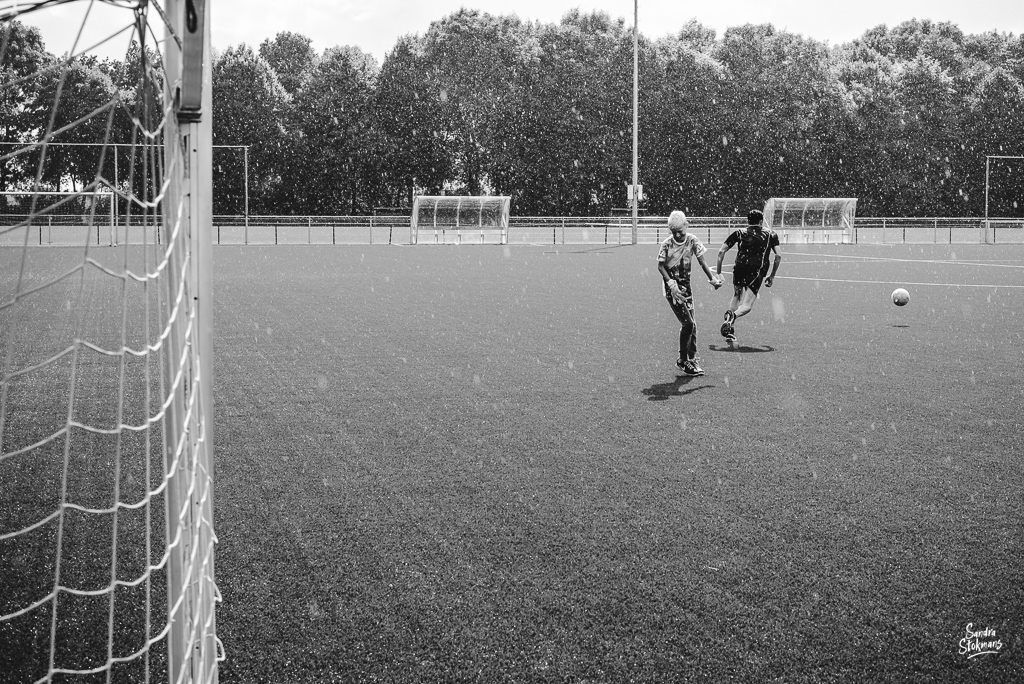 Het avondritueel
Elk gezin met kleine kinderen heeft een avondritueel. En zelfs als de kinderen groter worden zijn er avondrituelen, alleen worden die meestal bepaald door de kinderen zelf, en niet meer zozeer door de ouders. En zo ook in dit gezin. De jongens zijn al een stuk ouder dan Sanne dus die mogen later naar bed en zorgen er zelf voor dat ze dat ook doen. Toen Sanne naar bed ging zaten de jongens op de bank sport te kijken.
Het avondritueel met Sanne was een van de momenten die ze heel graag in beeld wilden hebben. Daphne had mij tijdens de dag verteld hoe het zou gaan. Ze gaan met Sanne naar boven en dan is het omkleden en tandenpoetsen, daarna komt Bart Jaap en die leest Sanne voor. Alleen wat het grappige is, is dat Bart Jaap het hele verhaal uit zijn duim zuigt terwijl hij heel stoïcijns doet alsof hij het boek voor hem echt aan het lezen is. En dit weet Sanne ook :). En als laatste is dan de knuffel met Papa en Mama "haar broodje" en Daphne brengt haar naar bed, zingt voor Sanne en geeft haar nog een laatste dikke knuffel en kus.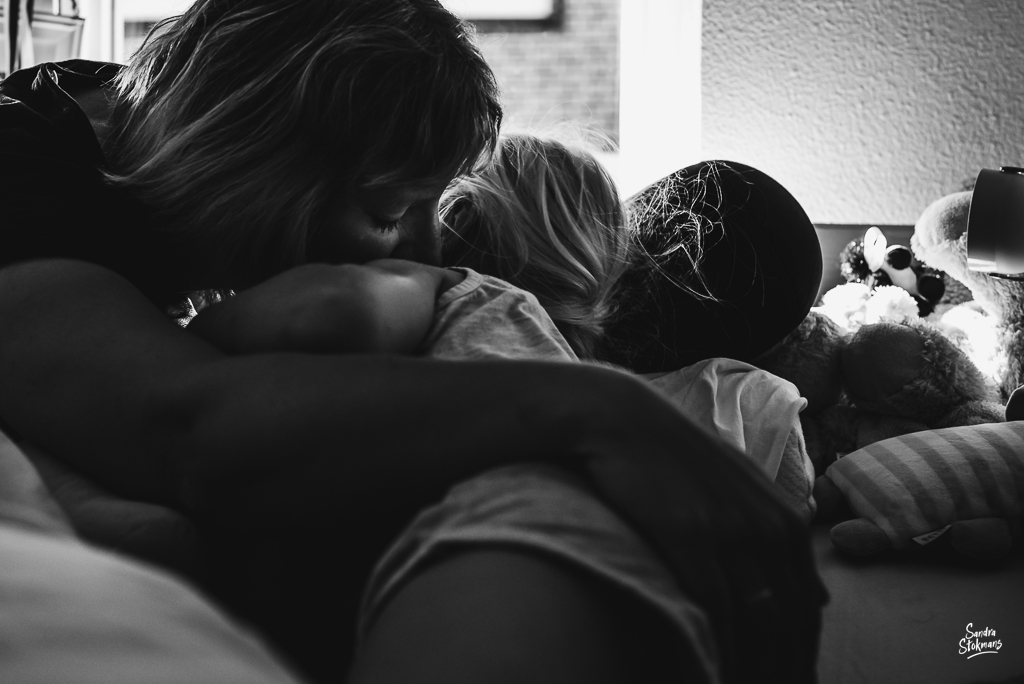 Slaap lekker kleine meid …
Huisdieren tijdens de Day in the Life sessie
Uiteraard spelen huisdieren een belangrijke rol in het leven van een gezin. En als er veel interactie is tussen de huisdieren en het gezin zal dat ook zeker zichtbaar zijn in de beelden van de dag. En hier liepen 3 poezen (Rambo, Happy en Belle, laatste niet gezien) en een allerliefste hond, Tess, rond, die gezellig voor ieders voeten liep en probeerde met een propje je aan het spelen te krijgen.

Aanbeveling van Daphne
En wat een mooi aanbeveling gaf Daphne mij na het ervaren van deze dag en het zien van de foto's!
ENGLISH
A Day in the Life of a familie in Everdingen, the Netherlands
Just before the holidays I had a whole Day in the Life session with the Hoogendoorn family in Everdingen, the Netherlands. This session started with the children who were still in pajamas as usual on a Sunday. And Sunday is a day of resting for this family with two cool athletic boys (13 and 11) and a playfull, active girl (6).
Day in the Life, pure moments
Gosh, how time flies! Days. Moments. 1000's of photos on the phone or computer. There is a reluctancy to do something with the images. In addition, the quality is not really good. And before you know it (grand) children are all grown up and ready to fly off.
Such was the case with Daphne. She does take pictures with a much better camera than a smartphone, but the majority of the family moments are recorded with the smartphone, and are still in the smartphone. Certainly now with those growing boys of hers. And she also regularly makes albums, but really only of the holidays. Not of their everyday activities. And she isn't  in the picture during one of the familie moments captured.
How cool is it to have professional photographs taken of these special daily moments! Look at the example above (picture of same moment taken bij mom on iphone and the one I took).
A Day in the Life is a form of family photography which is not posed. It is not a lifestyle shoot. It's pure documentary photography of a normal day in your life. Exactly what lingers so beautifully in the memory and what kids will remember later on in life.
A beautiful tangible memory.
And what a gift reaction Daphne gave me after she had seen the video!
Wow, Sandra, I'm sooooo incredibly enjoying this. You have made a stunning video of a wonderful day in our lives !!
The morning
After seeing the video you hopefully will have a sense of how that day went. The Day in the Life of Bart Jaap, Daphne, Joey, Mark and Sanne. Now I will share some of what happened and share a few pictures. A little before ten o'clock I got there. On Sundays they often have breakfast at that time. I was received most cordially by the family Hoogendoorn. After drinking a cup of tea with the parents, Daphne and Bart Jaap, I went looking for the children. Sanne was playing nicely in her pajamas at the big table, and the boys were chilling in the room of the oldest.
They had not had breakfast so that was the first family moment that I had. When I took the picture, I did not know it yet, but Sanne would have moments where she would be dancing and singing all day. What I like about this moment is that everyone seemed to be pretty much in his own thoughts, Mark's having a chuckle and Sanne completely separate from the rest, is doing her thing.
Combing your hair or making your hair look good is one of those moments everybody can relate to. And sometimes you don't see what kind of faces your kids pull.
Then the boys went  outside to play soccer. The kicks were very grown up kicks. And occasionally a ball fell into the pasture.
Resting and lunch
Before we left for lunch, Joey practiced on his guitar. Getting a moment all to himself. Then we went for pancakes and we a walk. And of course Tess, their dog, came along. In the car with two brothers does not always go without having some kind of frustration 😉 .
While the guys rested on the couch Sanne and Daphne mad some incredible smoothies. Mark came later to make one for himself. And they were delicious!
After the smoothies and the resting-up moment they decided to play soccer. A family friend was picked up. He always plays soccer with the boys. There was no one on the soccer field, so the boys, and Daphne and Sanne too, could play all they wanted. And as in the Netherlands is often the case, this outing ended with some rain.
Evening ritual
Every family with small children has some kind of evening ritual. And when the children are bigger the evening rituals still exist but they are usually determined by the children themselves, and not so much by the parents. And this is how it was in this family. The guys are all a lot older than Sanne therefore authorized to go to bed later.
When Sanne went to bed the boys where sitting on the couch watching the Ipad or the TV. This was not so interesting for me to photograph, also because I had already taken pictures of them while doing just that earlier that day.
The evening ritual with Sanne was one of the moments that they really wanted to have in documented. Daphne told me during the day how it would go. She and Sanne would go upwards and she would undress and brush her teeth. Then Bart Jaap would read for Sanne. The funny thing is that Jaap Bart makes up the whole story as he goes along pretending to read the book in front of him. And Sanne knows this 🙂 . Then the last moment is the hug with mum and dad. Daphne takes her to bed, sings for Sanne and gives her one last big hug and kiss.
I drank one last cup of tea and went home 🙂 .