Hanneke is een oud-collega van mij. Sterker nog zij is diegene die mij heeft aangenomen als projectmanager bij de Politie ICT organisatie tig jaar geleden. Een hele gezellige, open, leuke vrouw. En ik kon het altijd al goed met haar vinden. Op een avond belt Hanneke mij op en vertelt een bijzonder verhaal die gaat leiden tot een van de meest bijzondere gebeurtenissen die je in Nederland hebt. Een bijzondere gebeurtenis fotograferen op documentaire wijze. En het leuke is, dit keer vertel ik het niet, maar Hanneke verteld zelf haar verhaal :D! 
Een bijzondere gebeurtenis fotograferen, Hanneke vertelt!
A Day in the Life …
Ik werd op mijn werk gebeld door mijn broer. Zijn eerste woorden waren: ha zus, mama is … Met ouders boven de 75 denk je dan al snel aan "… gevallen en heeft haar heup gebroken" of "… opgenomen in het ziekenhuis met hartklachten". Gelukkig was dat niet zo, het was juist een hele heugelijke mededeling "mama is … voorgedragen voor een lintje!!". En dan begint voor ons kinderen het geregel: zorgen dat papa een goed excuus heeft om netjes het huis te verlaten, geregeld! Een lunch voor degenen die onze moeder hebben voorgedragen, geregeld! Bloemen, geregeld! Broers van moeder en schone zussen ook uitnodigen voor de lunch, geregeld!
Ik neem het op mij om de broers van mijn moeder en (schoon)zussen telefonisch uit te nodigen en wat een geweldige reacties. Ondanks de hoge leeftijd en kwaaltjes komt iedereen! Echt iedereen!! Hoe bijzonder, het komt de laatste tijd zelden voor dat ze allemaal, zonder uitzondering, bij elkaar komen. En terwijl ik daar over aan het denken was en ondertussen mijn Facebook aan het checken ben, valt mijn oog op een foto die Sandra heeft gepost. "Prachtig" denk ik en wat geweldig dat mijn oud-collega Sandra dit nu doet. En meteen denk ik er achteraan … ik ga haar vragen om deze dag voor mama vast te leggen! Zonder met broer en zus te overleggen regelen Sandra en ik haar aanwezigheid.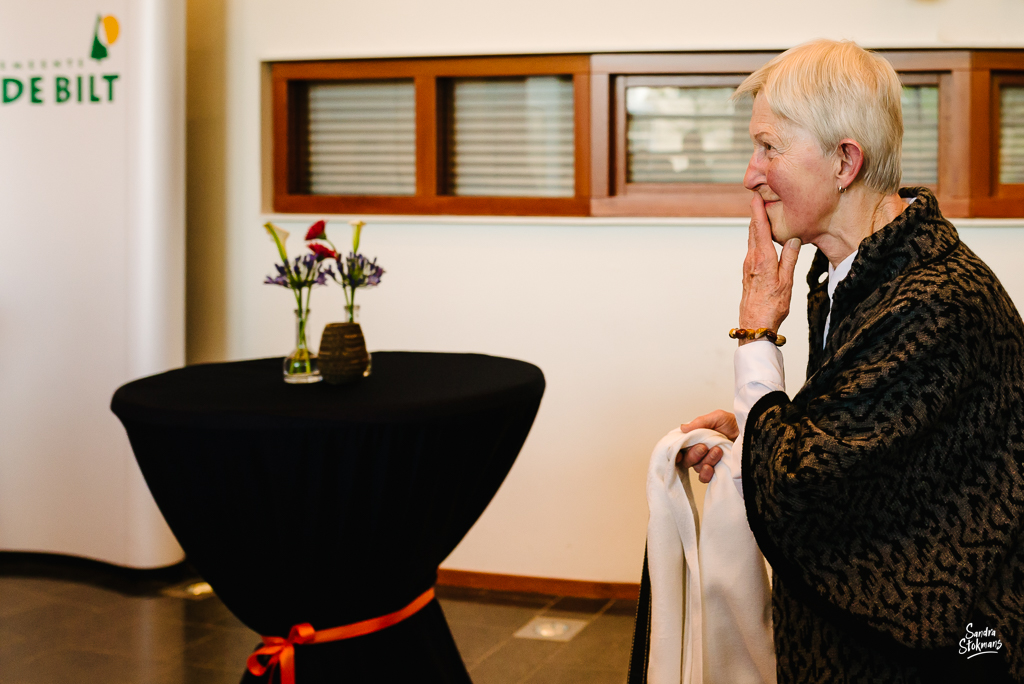 Lintjesregen in Bilthoven
En toen was de dag van de lintjesregen daar. Mijn moeder was naar het gemeentehuis gelokt, mijn vader met een smoes netjes de deur uit en Sandra was op het afgesproken tijdstip op de afgesproken plaats. En dan… regelt ze het allemaal zelf.. "ga maar gewoon je gang en let niet op mij". Ze hupt van de ene plaats naar de andere en als ik haar eindelijk aan mijn moeder wil voorstellen, heeft ze dat al zelf gedaan. "Ik ben hier voor u hoor!". Sandra is zeker niet onzichtbaar maar ze weet zich snel te mengen in het gezelschap. Even een paar extra foto's met de burgemeester ("Nee aan geposeerde foto's doe ik niet maar als u nog even een praatje wilt maken…") zijn zo geregeld. Daarna door naar de lunch. Ook daar weet Sandra zich staande te houden in mijn bijdehante familie. Met een kwinkslag en duidelijke interesse is Sandra niet een buitenstaander maar 'eigen'. Zo 'eigen' dat ze bij het afscheid en een paar dikke zoenen van mijn familie en van mijn moeder een "tot de volgende keer" te horen kreeg.
"Sandra, hele mooie foto's maken kunnen niet veel mensen, dat kun jij wel! Maar jij kunt meer… jij vertelt een verhaal met jouw prachtige foto's die zo treffend voor de situatie en persoonlijkheden zijn, dat het lijkt alsof je ons altijd al gekend hebt en deel uit maakt van ons leven. Dat is ontzettend bijzonder! Dank je wel!! Hanneke ????"
Henny krijgt een lintje!
Van Henny

Lieve Sandra,

Eerst kwam het filmpje binnen en gisteravond stuurde Hanneke de enorme hoeveelheid foto's door. Prachtig!! Wat kan jij de mensen goed treffen!! Wij zijn er heel blij mee!

Wonderlijk allemaal. Vandaag is Mees jarig, de jongste van Corrine, het was ook de verjaardag van mijn oma en de dag van de uitvaart van mijn vader. En dan komen ineens die feestelijk foto's binnen! Bijzonder toch!


Veel dank Sandra en geniet van het weekend!
Een groet, nog steeds beduusd, Henny
"De foto's zijn boven verwachting. Maar vooral het verhaal dat de foto's bij elkaar vertellen maakt bij mij diepe indruk."
Een paar foto's uit deze hele speciale documentaire fotosessie
ENGLISH
My mother is getting a ribbon! In Bilthoven
Hanneke is a former colleague of mine. In fact, she is the one who hired me as a project manager at the Police ICT organization so long ago. A very open, funny lady. And we always got along very well. One evening, Hanneke calls me and starts telling me a special story that will lead to one of the most special events you have in the Netherlands. And this time I'm not going to tell the story of this day in the life session, Hanneke will tell the story herself: D!
Hanneke tells her story!
A Day in the Life ….
I was called at my work by my brother. His first words were: ha sister, mom is … With parents over 75, you immediately start thinking "she fell and broke her hip" or "… hospitalized with heart problems". Fortunately, that was not the case, it was a very happy message "Mom is … nominated for a ribbon !!" [Sandra: in Holland you can get a ribbon from the King if you have done something very exceptional or have devoted your life to special causes. You get nominated by your friend or familie.] And then as children we had to start organizing things: make sure dad has a good excuse to leave the house all dressed up, arranged! A lunch for those who have nominated our mother, arranged! Flowers, arranged! Brothers from mother and sisters-in-law, also invited for lunch, arranged!
I personally invited my mother's brothers and sisters-in-law by telephone and what a great response. Despite the high age and some medical issues, everyone was going to be there! Really everyone!! That was something special, because it is rare that they all come together. And while I was thinking about it and meanwhile checking my Facebook, my eye falls on a picture that Sandra has posted. "Beautiful" I think and how wonderful my old colleague Sandra does Day in the Life photography, family documentary photography. And immediately get in touch with her. I asked her to capture this day for my Mother! Without consulting brother and sister, Sandra and I arranged her presence.
And then the day of the ribbon was there. My mother was lured to town hall, my dad was just out of the door and Sandra was at the agreed time at the agreed place. And then she handled everything herself. "Just go ahead and do not mind me". She hops from place to place and when I finally want to introduce her to my mother she had already done that herself. "I'm here for you!". Sandra is not invisible, and she knows how to mix quickly in company. Just a few extra pictures with the Mayor ("No posed pictures, but if you could chat with her, sir, that would be great …") are arranged. Then the lunch. Here too, Sandra knows how to get in contact with my family. Sandra is not an outsider but "own". So much so that she got a "until the next time" and a few good kisses from my family and from my mother, when it was time for her to go.
"The pictures are above expectation. Especially the story that the pictures tell together makes a deep impression on me."
From Henny

First the video came in and Hanneke sent over the enormous amount of photos. Beautiful!! You really know how to capture a person!! We are very happy about it!

Amazing. Today is Mees's birthday, the youngest of Corrine, it was also my grandmother's birthday and the day of my father's funeral. And then all of these festive pictures come in! Very very special!

Many thanks Sandra and enjoy the weekend!

A greeting, still dazed, Henny